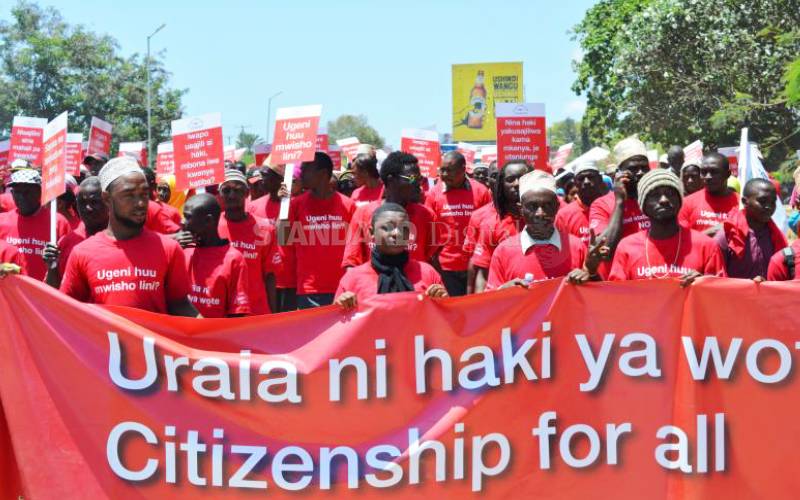 More than 2,000 stateless members of the Pemba community living in Kilifi County want to be registered as Kenyans.
The Pemba, who are traditionally fishermen from Pemba island of Zanzibar in Tanzania, claim they came to Kenya before the Second World War.
They don't have ID cards and birth certificates and it is difficult for them to get crucial government services or engage in contracts.
Some Pemba people live in Mombasa and Kwale.
On Saturday, Kilifi County Pemba community chairman Shaame Hassan said their children were unable to register for national exams due to lack of birth certificates.
He also noted that it has been difficult for them to get loans from commercial banks to buy boats, engines and fishing gear among other requirements for their trade.
Kilifi North MP Owen Baya said it was unfortunate that the Pemba are still stateless citizens and were not considered like the Makonde community that came almost at the same time.
Speaking during a meeting with Pemba community representatives in his office yesterday, Mr Baya said the Pemba risk being left out during the ongoing census because they are regarded as stateless.
He, however, announced that he had initiated a process of registering all of them in the entire county so as to begin a process of pushing for them to be recognized as citizens.
"The Pemba have lived here for many years but were left out because they were not among the 46 tribes of Kenya," he said.
Baya said, so far, they have registered 300 people from the Pemba community, and want to ensure all of them are registered before August 30 deadline for registering stateless citizens as required by Kenya Citizens and Migration Act.
"We want the Pemba to get citizenship and be Kenyans. They have lived here for so many years since their ancestors came here and know no other home," he said.
The MP said he would be forced to go to Parliament to seek extension of the deadline for registering stateless persons if they do not manage to get all of them considered.
Three years ago, the Kenyan government granted citizenship to the Makonde who had lived as stateless people in Kenya for decades after migrating from Mozambique and southern Tanzania.