Nairobi
Former MP and six others stormed an apartment demanding to be paid by the landlord.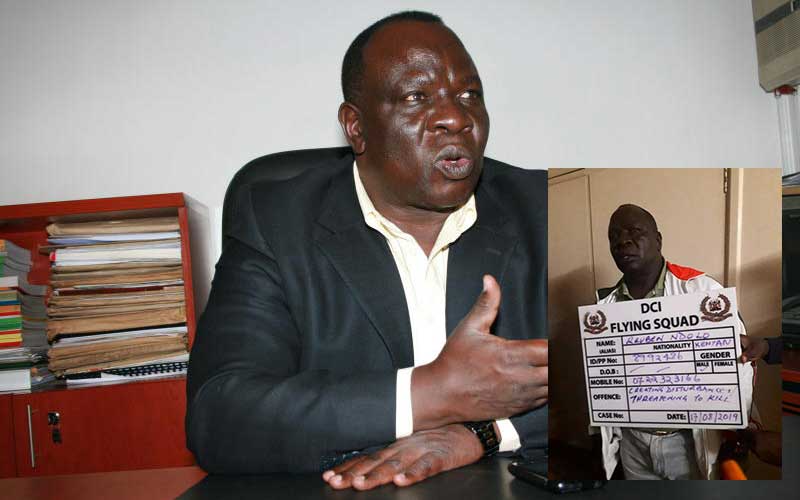 Former Makadara MP Reuben Ndolo (pictured) was yesterday arrested in Nairobi by flying squad officers over claims of issuing death threats. Ndolo and six others, who are being held at the Kilimani Police Station, are said to have committed the offence at a residential property along Ole Odume road. "Flying Squad detectives last night arrested seven people, among them Reuben Ndolo, a former MP for Makadara, at Bustani Gardens along Oledume Road on allegations of creating disturbance and threatening to kill. The suspects will be arraigned today," the Directorate of Criminal Investigations (DCI) said yesterday in a tweet. Mr Ndolo, however, protested the arrest, saying the altercation was caused by a business dispute.
Business dispute
He explained that he and a number of other people run a real estate agency. The agency manages one of the apartments in Bustani Gardens, which is owned by a wealthy businessman of Asian origin, who is based in London. The businessman had picked another real estate agency to manage the apartment, without allegedly paying Ndolo's firm its dues. "We went to court and obtained orders that allowed us to be in charge of the apartment until our dues are paid," said Ndolo. He claimed that the new firm picked by the apartment owner went and kicked out staff from his agency, in total disregard of the court order. Friendship with work "I went to the apartment and asked the guards who had been deployed to keep our staff out, to step out since we have a court order. They left but shortly after, police arrived and arrested us," Ndolo told
The Standard
at the Kilimani Police Station, where he was being detained. Yesterday, Nairobi Governor Mike Sonko said he would not intervene and bail out Ndolo and the other suspects since he does not mix friendship with work. "Let them be charged. I do not mix friendship with work. It is time my friends know that I was given a mandate to protect the interests of Nairobi residents. People will not suffer under my watch because of my friends. Let them face the law. Bravo DCI," Sonko said.