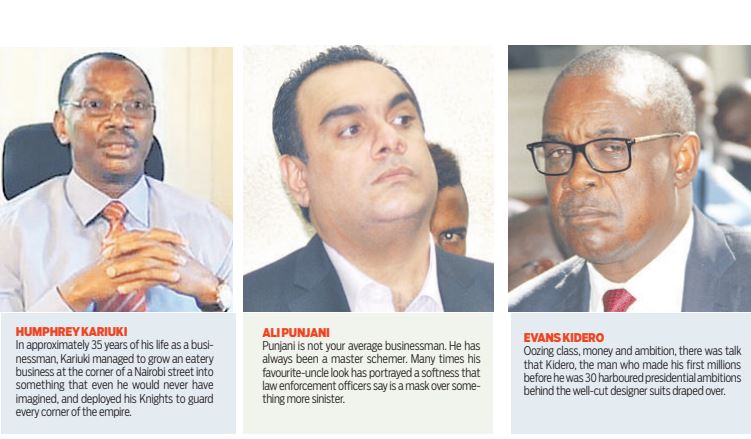 At least 10 billionaires with varying interests in real estate, manufacturing, gaming media and advertising are in the sights of various government agencies over one thing or the other, the Sunday Standard can reveal.
For the first time in generations, this select group of Kenya's super wealthy are gasping for breath, pounded from every direction by a government some of them propped to power. From being slapped with multi-billion-shilling tax claims, raids on their facilities, to being hounded out and about, there appears to be no respite for their club.
Many have chosen to fight their battles quietly, but for a few, their battles with the state have spilled over into public fora.
Among these is Mombasa businessman Ali Punjani whose residence in Mombasa's posh Nyali estate was on Tuesday raided by detectives from the Directorate of Criminal Investigations. His charm pops out every so often, and with a smile and open arms, he wiggles his way towards power whenever opportunity arises.
Such an opportunity presented itself in 2009 during a fundraising for victims of a fire in Faza Island that was held at the Kenyatta International Convention Centre. Punjani was a conspicuous figure as he lingered on President Mwai Kibaki's hand for a tad too long. He gave Sh6 million towards relief efforts.
Punjani might be the latest billionaire whose woes have made the news. But before his Nyali home, standing behind an eight foot wall on one side and the limitless sea on the other, became part of national debate, another high flying Kenyan with connections to both local and international governments was having it rough on the hands of law enforcement.
In one year, Humphrey Kariuki has moved from being awarded as a top taxpayer by the Kenya Revenue Authority (KRA) to a wanted man with a Sh41 billion tax bill.
Kariuki, like many of his peers, is a man who by the sheer vastness of wealth would feel he has earned a seat at the table of the wielders of power. When in his mid-30s, his businesses were getting plaudits from the movers and shakers in the country. This was at a time when the country was gripped by tension caused by the clamour for multiparty democracy, and mass protests and teargas-filled political rallies in Kamukunji was the order of the day. Businesses were suffering. Liquidity hitches were the order of the day and the shilling was losing ground against major currencies.
But the businessman had a respite of sorts -- he was getting paid in dollars, for this was the time he was supplying foods and beverages to various foreign missions.
A decade later, he was in government crosshairs following a deposit of Sh2 billion into his bank account at the now defunct Charterhouse Bank. Kariuki went to court to challenge a decision to freeze his account.
Bank transactions
At the time, all banks and financial institutions were required by the Central Bank of Kenya (CBK), an institution that Kariuki worked for, to disclose any transactions above $500,000, which was then Sh39 million. Documents from the Registrar of Companies showed that Crucial Properties, the company that received the Sh2 billion at Charterhouse Bank, was registered in 1996.
The main shareholders then were Gilbert Thinji Nguru and Helen Njambi Nguru.
The firm remained dormant until 2000 when the two directors wrote to Charterhouse, informing the bank that the company's board had incorporated Kariuki as a director and signatory to the account at Charterhouse. A few days later, some $24.9 million was deposited in the account.
In an affidavit, Kariuki said he was summoned to the CBK on January 30, 2001 for an urgent meeting, believing he was about to be asked to invest in Treasury bills, only to be questioned about the source and his intentions for the money. "I told them it was not their business and that their questions were irrelevant and in bad faith," his affidavit from the time reads. He said the CBK officials then turned unfriendly "becoming arrogant to the point of seeming drunk".
Two decades later, a similar scene is at play. This time, Kariuki is being sought over a tax bill.
Tax evasion
Through his London-based lawyers Schillings, the tycoon has dissociated himself and Janus Continental Group from Africa Spirits, the firm at the centre of the alleged Sh41 billion tax evasion.
Mr Kariuki has also recently stepped down as chair of the board of the Janus group and its associate businesses.
For a big part of his adult life, few people would pick out Jimmy Wanjigi from a crowd of fun loving Kenyans. But as the 2017 presidential election approached, Wanjigi put aside his shroud of secrecy and became a rather constant figure at NASA political functions. His visibility came at a cost though and from the relative anonymity of his life, Wanjigi found himself under the glare of the state's spotlight.
And like Punjani, his home in Nairobi's affluent Muthaiga Estate was the setting for a scene of government might against a man who can be described as a dyed-in-the-wool insider.
On Saturday May 6, 2016, Wanjigi burst onto the scene after the death of former rubblerouser Jacob Juma, who was shot on his way home along Nairobi's Ngong Road. At the time, Jimmy was an unfamiliar face to many Kenyans.
Juma, a controversial businessman, had in his final days become a fierce government critic, tearing into Jubilee's mega ambitions of prosperity and in constant communication with Wanjigi about the Eurobond saga, exchanging new information about goings-on at the National Treasury and the Central Bank.
One of the last people he was in touch with by phone hours before his death was Wanjigi. This might explain the businessman's grief and shock over Juma's murder. But also, both men had an axe to grind with the government.
Received letter
In October 2017, a house associated Wanjigi was raided in a seven-hour operation. Detectives also broke into his Muthaiga home in a 30-hour siege, seizing six licensed guns. In February 2018, at the height of an election crisis, he told the press that he had received a letter from the Firearms Licensing Board asking him to surrender his weapons and bullets. The orders coming from a regime he had supported and helped fund just five years earlier.
Thawing political temperatures have benefited him a great deal. The handshake between his friends Raila Odinga and President Uhuru Kenyatta gave him some respite. Also in the state's crosshairs is Kiambu Governor Ferdinand Waititu, a confessed self-made millionaire. Waititu and his wife were charged alongside six other Kiambu County officials and a businessman for conspiracy to defraud the county of Sh588 million through irregular road tender.
Whereas Waititu's wife managed to pay the cash bail and was released after spending a night in remand at Lang'ata Women's Prison, the governor filed an appeal to reduce his bail, arguing that he was not able to raise the amount.
In previous interviews, Waititu says he made his money from flipping land in Nairobi's Embakasi area.
Since becoming governor, his wealth spread further, owning multi-million-shilling buildings in different parts of the country, including prime real estate in the capital city.
Baba Yao maintains that his wealth was legally earned, and that his trips to the Kenyan courts are a persecution by the State over his political leanings.
The State, however, insists that Waititu is where he is because of some curious inconsistencies in his county's expenditure.
As Waititu walks the corridors of justice to try and clear his name, he might on occasion bump into another contemporary. Former Nairobi Governor Evans Kidero too is a near permanent figure in the law courts.
People's person
At the height of his political power and influence, Kidero always walked with an entourage. He was a people's person.
Now, however, court appearances have become a lonely affair. Kidero's empire is said to include prime residential addresses in the leafy Nairobi suburbs, entire office blocks in upmarket locations in major towns around the country.
Last year, in an affidavit filed in court in response to claims by the Ethics and Anti-Corruption Commission (EACC) that he owned properties worth Sh9 billion, Kidero accused the agency of lying about his wealth.
Although he admitted owning properties in many parts of the country, Kidero stated that the EACC exaggerated their value and that they were bought before he was elected Nairobi governor.
"Their sole intention is to create a false narrative that I illegally acquired wealth while holding public office," he says.
In a 2013 interview in which he was asked about his wealth, Kidero said: "I am not fabulously wealthy as claimed. Whatever I have, I have worked for it."
They may have made their money, but suddenly, it seems the billions are falling short of purchasing a day's worth of peace of mind.
Not even their friendship and proximity to the wielders of power has shielded them from being pursued.