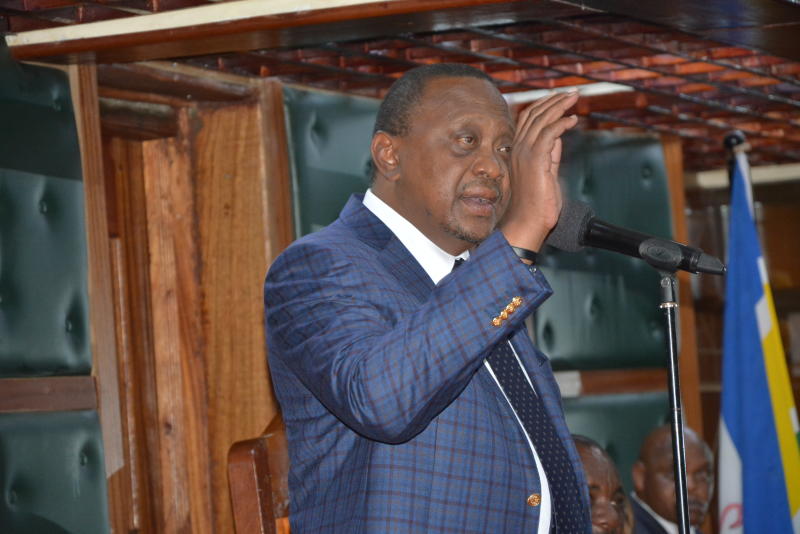 President Uhuru Kenyatta has maintained that counties will not get more than the Sh316 billion allocated by the National Assembly in the contentious Division of Revenue Bill, 2019. Instead, the President advised governors to ensure prudent management of money sent to the counties and find ways to improve their own revenue collections to enable them finance their programmes. The President pleaded with the Senate and the National Assembly to end the stalemate, noting that the National Government cannot give what it does not have. Making a historical address at the County Assembly of Nakuru yesterday, the Head of State said counties must learn to work with the available resources because there is no more money.
SEE ALSO: Corona hits new high. Was it a gamble to reopen?
"It is unfortunate that everyday has turned out to a competition between the two Houses while Kenyans are now suffering the brunt of this standoff. With all due respect, agree with me that there is no money so that the little available funds can be released so that Kenyans can be served," Uhuru added. "The resources are limited. Some people think that we operate as if money comes to us like rain. Let us take what we have. If the money they are demanding was there, I would not have objected," said Uhuru. Governors and senators are seeking allocation of the entire Sh335 billion that the Commission on Revenue Allocation gave counties for the financial year 2019/2020. The President noted that Constitution spells out that a minimum of 15 per cent should be given to the devolved governments, but within a year after he was elected in 2013, the figure has moved to nearly 30 per cent. He opened a new Sh230 million Ugatuzi Plaza at the Assembly, more than 51 years after his father Mzee Jomo Kenyatta, the founding President, inaugurated the Central Rift County Council chambers and an office complex at the same location.
SEE ALSO: Mt Kenya ponders life after Uhuru as parties re-emerge