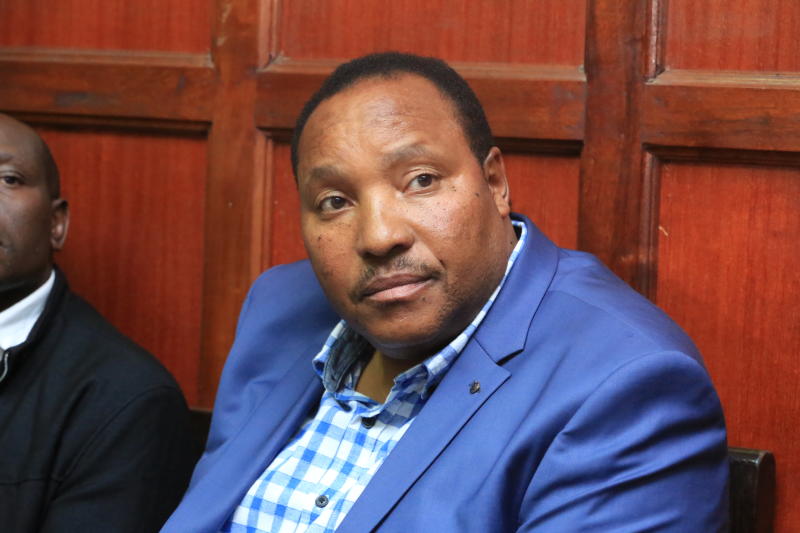 Kiambu Governor Ferdinand Waititu will remain suspended until his corruption case is concluded, a court has said in a ruling that signals more trouble for other governors facing serious charges. High Court's Grace Ngenye ruled that it would be immoral and untenable for the governor to continue performing his duties while facing trial over a serious crime of stealing from the people he was elected to serve.
Construction project
The prosecution has accused Waititu of pocketing Sh52 million kickbacks in a Sh588 million roads construction project.
SEE ALSO: Ojaamong to put up a defence in graft case
Justice Ngenye's decision is likely to send shock waves among governors accused of corruption, as it opens the door for deputy governors to take charge of county affairs in the absence of their bosses. Yesterday, Council of Governors Chairman Wycliffe Oparanya declined to comment on the development. His Kisii counterpart James Ongwae said governors would meet today and issue a statement thereafter. Justice Ngenye stated that there would be no vacuum in Waititu's absence at the helm of Kiambu County since the Constitution and the County Governments Act provides mechanisms of operations within the county when a governor is away. "He is being considered morally ill because of the alleged offences, which is similar to a governor who is sick and away from office. It has happened in other counties; when a governor is ill, his deputy takes charge, assisted by the county executive officers," said Ngenye. To make it worse, Justice Ngenye directed that Waititu be escorted to his office at Kiambu County headquarters by Ethics and Anti-Corruption Commission officials to collect personal belongings after which he should not set foot in the office again until the case is concluded. She ruled that public interest demanded that Waititu faces tough conditions to protect the integrity of the case and witnesses who he has control over as their boss. "I'm aware that he might have been abruptly arrested and had no chance to collect his personal belongings. The court will allow him to select a date of his choice to be accompanied to the office to remove his belongings and not return thereafter," ruled Ngenye. She concurred with a decision of Justice Mumbi Ngugi, who barred Samburu Governor Moses Kasaine from accessing his office, saying a time had come to give meaning to the fight against corruption by making it difficult for suspects to walk freely. Justice Ngenye also clarified on the conflicting decision by Justice Hedwig Ong'udi, which allowed former National Lands Commission (NLC) Mohamed Swazuri access to his office, saying it was not a binding decision since the judge only made a general remark. She ruled that barring a constitutional office holder from accessing his office when facing corruption charges did not amount to removal from office, but to protect wider public interest. "It is against national values of good governance to allow them back into office, as this will entrench corruption and impunity in their offices. He cannot continue exercising the powers and functions of a governor until he clears his name," the judge ruled. She added that Section 62 (2) of the Anti-Corruption and Economic Crimes Act, which protect constitutional office holders from suspension when charged in court, was discriminatory and unconstitutional, as it entrenched corruption in public offices. The judge said it made no sense for the governor's co-accused, who are county employees, to be barred from office while he gets preferential treatment because of his position.
County coffers
Ngenye stated that the charges facing Waititu and his wife Susan (of fraudulently acquiring Sh52 million from Kiambu County coffers) were serious and that it was in public interest to keep them away. "Although he remains innocent until proven guilty, a person with such weighty charges cannot be allowed to perform his functions. The law should apply to all equally like other State officers who automatically become suspended once charged with corruption," ruled Ngenye. She also reiterated that the magistrate's ruling stopping Waititu from accessing his office did not amount to removing him from office but only to protect the integrity of the court process and ensure he did not interfere with evidence or witnesses.
Cash bail
She, however, reduced the cash bail granted to Waititu's co-accused, county Chief Officer for Roads and Transport Luka Waihinya, from Sh15 million to Sh2 million, and businessman Charles Mbuthia Chege's from Sh15 million to Sh4 million. Justice Ngenye stated that trial magistrate Lawrence Mugambi should have considered the economic conditions of the two and the fact that Waihinya faced only one count while Chege was charged alongside his wife.