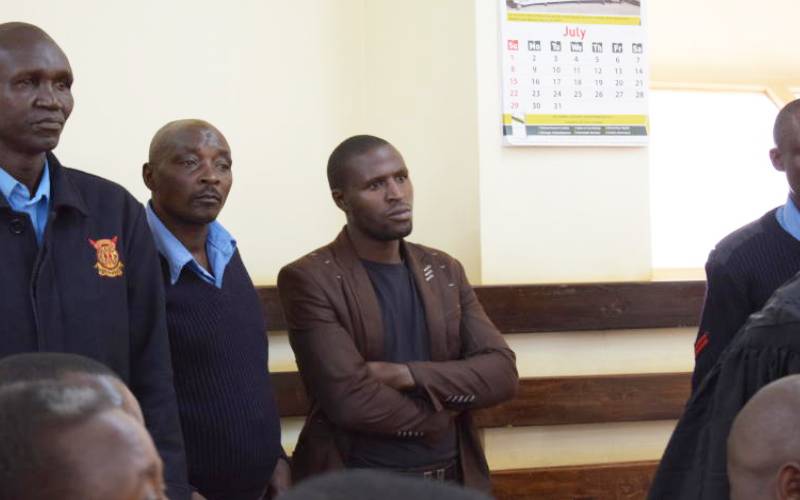 The High Court in Meru was told of how Meru University student leader Evans Njoroge alias 'Kidero' was shot dead inside a farmer's compound in February 2018. The farmer, whose identity was concealed, told Justice Francis Gikonyo that Njoroge was in a group of more than 50 students being pursued by police into a homestead at around 3pm on February 27, 2018. Administration Police Constable (APC) Leakey Maina has denied murdering the 23-year-old fourth year student at Kabebe Village, three kilometres from the main campus in Nkomo ward, Tigania West. Testifying behind a closed booth, the farmer told the court that the fleeing students ran into her compound. She testified that two female students hid inside one of her houses while several male students hid in the garden behind a water tank.
SEE ALSO: Sorry for your mental illness, but Sh50m property is gone
Soon after, a vehicle belonging to the Administration Police (AP) drove into the compound with three officers, and the driver demanded to know where the students had ran to. "I kept quiet (even) when he asked three times," the witness told the court. She said her daughter, who had arrived home during the commotion, eventually pointed the direction the male students had ran to and the police officer, who was holding a gun, quickly walked in the direction. "I saw him aim at something and fire once. I went into shock. He came back and removed the AP jacket revealing a white t-shirt before entering the vehicle and driving away," she testified. The witness told the court that the other two officers never left the vehicle.