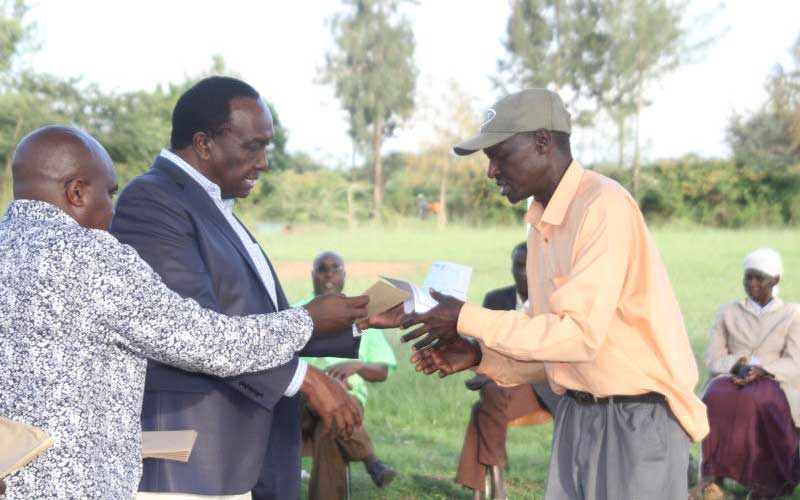 Leaders and farmers have criticised the Government for authorising the importation of 12.5 million bags of duty-free maize. Rongai MP Raymond Moi said it was wrong for the State to allow the imports while local farmers are still holding millions of bags even as they await the next harvest. The lawmaker said the imports shall see farmers in maize-growing zones struggle for sell their produce. "It is not okay for the Government to rollout importation of maize when we have some farmers holding millions of bags in their stores, while some are expecting to harvest," said Moi.
SEE ALSO: Dejected farmers now selling green maize
Out of the 12.5 million bags earmarked for import, 10 million will be white maize for household consumption while 2.5 million will be yellow maize that will be processed into animal feeds.
Import window
Treasury opened the importation window last month and it is expected to end in October. Moi said maize importation results in fluctuation of prices amid high cost of production. He said there has been no transparency in past imports.
SEE ALSO: Farmers oppose move to import maize
"It is shocking that lack of transparency has created lapses in purchase of maize in the country for farmers who continue to languish in poverty at the expense of a few traders who purchase the produce in neighbouring countries that they supply to the National Cereals and Produce Board (NCPB) stores," he said. The shelf prices for a two-kilogramme packet of maize flour has hit Sh125 up from Sh100 in the month of January. In the months of January, February and March, majority of farmers were selling 90-kilogramme bag of maize at between Sh900 and Sh1,000 despite the high cost of production. The MP was speaking during issuance of bursaries at Kampi ya Moto Secondary School over the weekend. He issued Sh27.5 million to needy students. Moi said maize farmers suffer in the hands of cartels and middlemen.
SEE ALSO: Missing link as cement firm handed toxic maize
According to him, the Strategic Grain Reserve (SGR) initiative by the national government was meant to help farmers sell their produce, but it has been taken over by rogue traders. Last year, farmers accused rogue traders of importing maize from neighbouring countries and supplying the NCPB stores at the expense of genuine farmers. The importation of maize led to suspension of top NCPB managers in South Rift, Western and North Rift. "The Government needs to come up with stringent measure that will guarantee a good market for maize farmers," Moi said. Farmers in North Rift have also criticised the State's move to import maize months after it imposed stringent vetting measures that restricted farmers from supplying the grain to NCPB. "We do not understand the games being played by the Government. Local farmers were restricted from supplying last season's produce to NCPB towards replenishment of the strategic food reserves. It is ironic to complain of food shortage now," said Ruth Kemboi. Mrs Kemboi, the chairperson of Kenya National Farmers Federation Uasin Gishu branch, said many farmers were barred from supplying maize to the NCPB through stringent vetting conditions, including setting the limit an individual farmer could supply at 400 bags each. Kemboi said the Government should have first bought all maize stocks in farmers' stores before settling on imports. "Farmers have been frustrated from making any good returns from the maize sector. Good policies should be in place to avoid unfair competition between local and foreign maize producers," said Kemboi. She said the Government should disclose the price to be paid for each bag of imported maize as well as the identities of the traders tendered to bring in the import. "The Government should not do business with traders and foreign farmers. We should be told the prices paid for imported maize because we intend to demand that the Government pays an equal amount for local produce in the next maize harvest," said Kemboi. Moiben MP Silas Tiren, who is also a member of the parliamentary Committee on Agriculture, said the Agriculture ministry should not ignore farmer. "The Agriculture ministry is always opposed to farmers' wishes because they are not involved in decision making," said Mr Tiren.
No urgency
The legislator said there is no urgency to import maize because farmers still have last season's stocks. "The Strategic Grain Reserve has indicated that it has a shortfall of four million bags. Why should the ministry allow the importation of 12.5 million bags? It should be open on its statistics," said Tiren. Agriculture Chief Administrative Secretary Andrew Tuimur told the Senate Agriculture Committee that the SGR currently has two million bags, with 1.5 million bags set aside for millers. "We anticipate beginning importation of maize at the end of this month. The country has enough maize stock to last us a month," said Dr Tuimur. During a recent meeting between farmers and leaders in Eldoret, the State was faulted for failing to buy two million bags of maize as directed by President Uhuru Kenyatta.