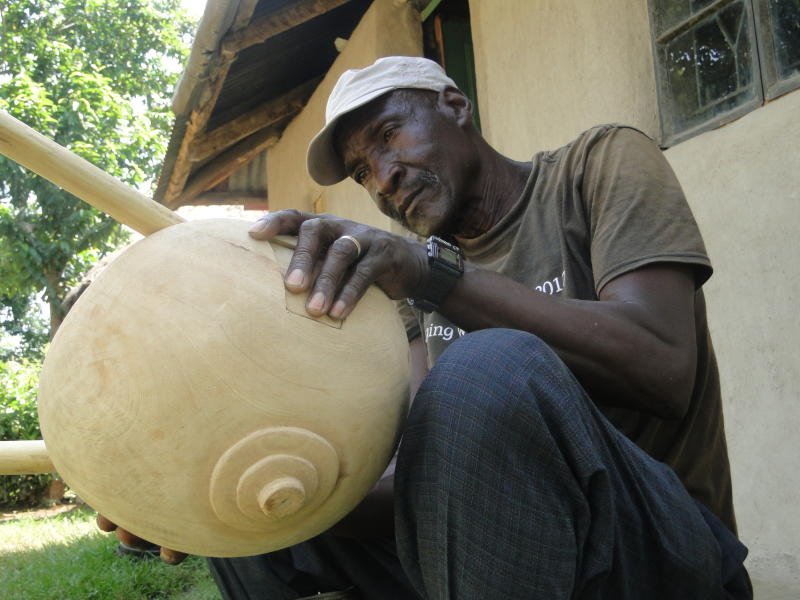 The road to Charles Obong'o's house is like any other in rural Kenya. It is a red-earth footpath, off the Siaya-Rangala Road. There is no sign at the gate identifying the home owner but residents of Sirakut village and beyond know the musician-turned carver. The compound is a typical Luo homestead. A main house in the middle of the compound, sons' houses lined up on the sides, goats and chickens running free and indigenous trees lining the compound. Obong'o welcomes us at his home in North Alego location. His house is humble. Musical instruments takes most space.
Elicited mockery
Yet younger generations hardly know how it looks like. You won't find it in popular Luo music. Obon'go, while admitting that "many people have forgotten traditional music", says he is on a journey to reintroduce it At the age of 14, Obong'o had started learning how to play Nyatiti. 56 years later, his love for the instrument has blossomed into carving. Today, Obong'o is a popular Nyatiti carver in Siaya County.
Saturday Standard
that a Japanese woman, popularly known as Anyango Nyar Japan bought her first Nyatiti from him. "I have also taught a number of women how to play the instrument and they are now playing well," he says. Obon'go has faced a number of challenges, ranging from lack of trees from which carvings are made to low earning due to middlemen. The tree he uses most is ebony. He urges Kenyans to get involved in forest conservation, adding that deforestation has forced them to use endangered trees for carving. He has appealed to the county government to consider supporting such talents, saying that the instrument is likely to be extinct if not preserved.