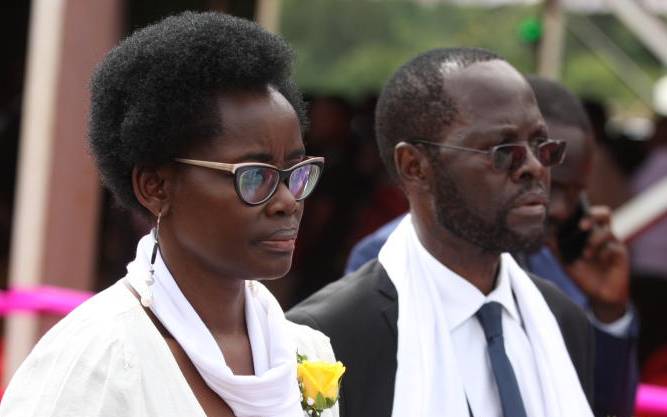 Nyanza
Prof Nyong'o said he will enrol at St Paul's University to Theology to enable him continues from where his late father left his spiritual work.
Kisumu Governor Prof Peter Anyang Nyong'o now wants to study theology and become a pastor, besides his political duties. Nyong'o made good his intention known in the public during the burial of his late mother Mama Dorka Nyong'o who was until her death was a deaconess at Anglican Church of Kenya. She died aged 99 and was buried last week on Friday at a colourful ceremony attended by President Uhuru Kenyatta, ODM leader Raila Odinga among a host of dignitaries While eulogizing her late mother, Prof Nyong'o recalled how she had wanted him to inherit his father's job, as a Canon, but he always declined the spiritual role as a tough calling.
SEE ALSO: City preacher cries to President Uhuru over Ruai demolitions
But on Friday, he declared before a huge congregation that turned up at their mother's final burial rites that he will next month enrol for a degree course on Theology. '' Allow me ladies and gentlemen for God sake and in honour of my late mother to declare before you that as from next month I will enrol for pastor hood,'' he revealed Prof Nyong'o said he will enrol at St Paul's University to Theology to enable him continues from where his late father left his spiritual work. ''There is no Greater love I can show to my deceased parents than this.... that a time can come for someone to lay down his life for his family and friends,'' he claimed Prof Nyongo', a political scientist and economist narrated how his late mother had in the past nudged him to follow in his father's footsteps.
SEE ALSO: Pastors turn to God for bread as virus swallows up tithes, offerings
''My mother always tried to prevail upon me and asked me whether I would be ready to step in the footsteps of my father. But I have rejected her idea. I always told her...Not me," said the governor who has been a Cabinet Minister, MP for Kisumu Rural and Kisumu Senator before he was elected governor in 2017. He said his mother told him that the greatest reality in the universe is the pastoral job of his father because pastors swim in that sea with ever-replenished joy. The Kisumu governor stirred the crowds to laughter when he claimed that the job of his father was tough and did not fit a young and emerging scholar of his repute. ''So I told mum. You mean you want to me ride a bicycle all over the village with a Bible while spreading the gospel of God. Ah ah ah I think it's a tough calling Mum,'' he said Maseno South ACK Bishop, Rev Charles Onginjo was excited by Prof Nyong' os decision to study theology.
SEE ALSO: Unwelcome advances: The downside to being a celeb in Kenya today
''Mr Governor you are welcome to join us," Rev Onginjo said.'' Explaining his decision to heed his mother's call, Prof Nyong'o said his late mum save his life on many occasions. It now remains to be seen how the governor will get time out of his busy schedule to study theology. He also did not explain whether he will pursue a diploma or degree.