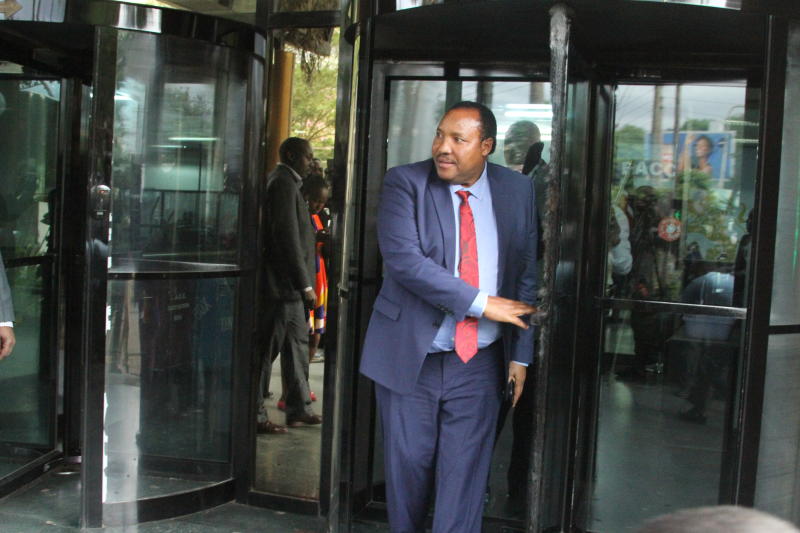 Kiambu Governor Ferdinand Waititu spent the better part of yesterday at the Ethics and Anti-Corruption Commission (EACC) offices as an ongoing probe into graft at the county intensified. Mr Waititu arrived at the commission offices at Integrity Centre in Nairobi shortly before 10am and spent more than eight hours with investigators. It was the third time the governor was appearing before the officers. His wife Susan Wangari Ndung'u and daughter Monica Njeri have also, in previous weeks, been questioned.
SEE ALSO: EACC asks to table new evidence in Waluke graft case
An official aware of the investigations yesterday said there were issues they wanted to clarify with the governor. Commission CEO Twalib Mbarak said they are investigating the irregular award of tenders valued at Sh588 million to companies associated with Waititu and members of his immediate family.
Fraudulent payments
"Preliminary investigations show the contractors paid monies to senior county officials, their companies or relatives through proxies," he said. He added they are also investigating fraudulent acquisition of public funds, conflict of interest and money laundering.
SEE ALSO: Proposed law offers reprieve to governors forced out of office on corruption charges
Waititu's third appearance at the EACC offices comes even as his entire cabinet was summoned by the anti-graft body to record statements. A letter by the EACC to the County Secretary Martin Njogu ordered the county executives to report to the commission's offices yesterday to record their statements. The letter dated June 7 was signed by Mr John Lolkoloi, the deputy director in-charge of Forensic Investigations, on behalf of Mbarak. "The commission is investigating allegations of corrupt practices at the county government of Kiambu in disbursement of funds during the 2016/2017, 2017/2018 and 2018/2019 financial years. To facilitate our investigations, kindly avail the following members for interview and statement recording," read part of the letter. Some of those summoned included Kigo Njenga (Finance), Karungo Thangw'a (Youth), Wilson Mburu (Roads), David Kuria (Environment), James Maina (Lands), Mary Kamau (Health), Joseph Ng'ang'a (Education), Joseph Kamau (Agriculture) and Margaret Ruinge (Administration).
SEE ALSO: Haji, EACC isolate Kinoti as fight for more clout rages
Others are former CECs who were sacked or resigned, among them Isabela Waiyaki (Trade) Dr Joseph Murega (Health) and Jeremiah Mbugua (Agriculture). Also summoned is the county's Chief Finance Officer Faith Njeri Harrison, Ms Josephine Muritu and former Chief of Staff Gibson Mburu. EACC Spokesman Yassin Amaro yesterday confirmed the county officials were at the commission's offices recording statements. A source at the commission who declined to be named said the investigation mostly centres on the controversial alcoholics addict rehabilitation programme dubbed 'Kaa Sober', road tenders and other procurement irregularities in various departments. A former CEC who spoke to
The Standard
in confidence confirmed he had recently been summoned by the anti-graft agency and was questioned on procurement matters touching on the department that he was in charge of during his stint at the county. The summoning of the senior county officials by EACC comes after the agency last month raided Waititu's home along Kiambu Road. During the raid, the detectives arrested the governor and took him for questioning. Other raids were also conducted in other county offices, among them department of Finance in Thika where computers and documents were confiscated. The EACC boss said during the searches in the homes of the governor, his relatives, directors of private companies and senior employees of the county government, valuable evidence was collected. Waititu was, however, later released after Kiambu Principal Magistrate Brian Khaemba granted him and Ms Harrison Sh500,000 anticipatory bail each. EACC has, however, opposed the granting of anticipatory bail to the two. In an affidavit, EACC accuses the governor of receiving kickbacks through his bank accounts and accounts of companies associated with him, his wife and their daughter.
Tender deals
The affidavit by EACC investigator Regina Ng'ang'a details how two companies the commission said are owned by the three received up to Sh30.6 million from a firm awarded a tender to construct roads late last year and early this year. EACC said Testimony Enterprises Limited, which had been "irregularly" paid a substantial amount "without producing certificates required to show the work done", received Sh180 million between April last year and last April. Investigations showed the company's account was opened on March 27 last year, by its Managing Director Charles Chege and Beth Wangechi Mburu, being the directors. Between July and October last year, Testimony Enterprises Ltd paid Sh25.4 million to Saika Two Estate Developers Limited, which is owned by Waititu and his daughter, according to EACC. Between October 2018 and January 2019, Testimony Enterprise Limited paid, from its bank account Sh5.2 million to Bienvenue Delta Hotel that is owned by Waititu and his wife, EACC said. Waititu has denied any wrong doing in the deals. [
Additional reporting by Cyrus Ombati and Roslyne Obala]