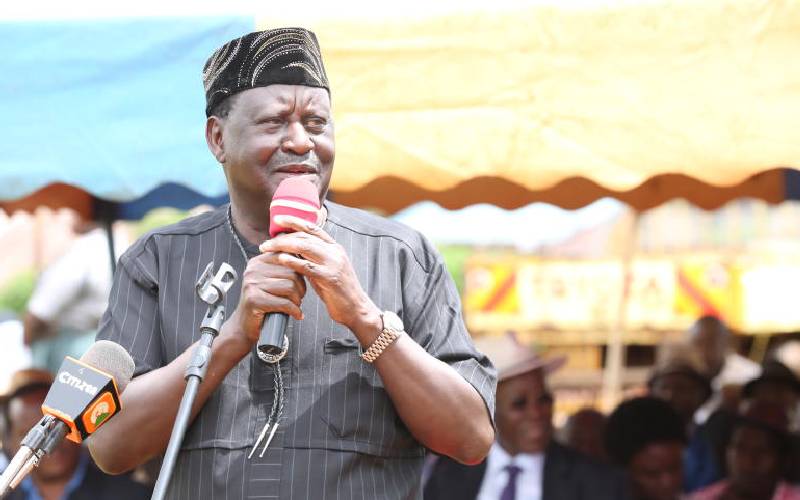 A proposal by the Controller of Budget to abolish 25 counties is the latest suggestion on reducing devolved units to be made to the constitutional reforms team appointed by President Uhuru Kenyatta and Opposition leader Raila Odinga (pictured).
Agnes Odhiambo told the Building Bridges Initiative (BBI) task force that 47 counties may not be sustainable because the devolved structure is gobbling up public funds, which can be used for development.
Besides a review of the number of counties, Ms Odhiambo recommended reducing the number of constituencies, wards and independent commissions.
She also said slashing the high salaries for political leaders would free up more resources for development.
"While the devolved governance structure is commendable, questions have arisen over the number of counties and whether they are sustainable. The structure is expensive and holds back the country from achieving its developmental goals."
"We can do with 22 counties and reduce the number of independent commissions and offices. The number of commissioners in these commissions is high, and is draining public funds. We can have two for each commission who can even work part-time," she said.
Odhiambo continued: "We should review salaries for the political class in line with their contribution to the economy. Politicians' salaries are among the highest globally. They beat those of many developed economies and may not be commensurate with their contribution to society."
Her proposal adds to presentations from professional and interest groups on various measures to reduce the runaway public wage bill and direct more funds to projects that boost production.
"We receive an average of four presentations each day at the KICC (Kenyatta International Conference Centre). So far, we have had eight such sittings. What is coming out particularly from the professional bodies is a reduction in the cost of elective positions," said BBI vice-chair Adams Oloo.
According to the latest figures from the Controller of Budget, counties were allocated Sh303.8 billion with recurrent expenditure eating up the highest amount of Sh236.9 billion (77.9 per cent) while development was allocated a paltry Sh66.9 billion (22 per cent).
The aggregate annual own source revenue target for counties was Sh49 billion compared to actual collection of Sh32.5 billion, equivalent to 66 per cent of the target.
This was a drop from the previous year when the targets were significantly bigger.
Nairobi County generated the highest amount of own source revenue at Sh10.11 billion, ahead of Mombasa (Sh3.16 billion) and Nakuru (Sh2.28 billion).
Lowest revenue
Counties that generated the lowest revenue were Lamu, Tana River and Mandera at Sh55.29 million, Sh56.63 million and Sh61.82 million, respectively.
An analysis of own source revenue as a proportion of annual revenue targets indicated that Tana River, Migori and Kwale exceeded their targets.
Former Institute of Certified Public Accountants of Kenya chair Patrick Mtange said the country can save close to Sh1 trillion yearly if the number of elected leaders is cut by half.
"With this over-magnified structure of Government, the obvious cause is a burden to the taxpayer. The burden includes the cost of maintaining administrative support staff that come with the many offices," Mr Mtange said.
The accountant said the number of elected and nominated leaders was inordinately high and resulted in over-representation.
"With a lean government, starting with halving the number of elected leaders, we can save this country at least Sh1 trillion. In the process leading to the promulgation of the Constitution, we advised that the current government structure was too big for an emerging economy like ours. But we were ignored," he said.
Yash Pal Ghai, a constitutional expert and chair of the Constitutional of Kenya Review Commission, said it could have served the county better if the Bomas Draft was adopted.
"It should also be noted that the system of devolution is not as devised by Bomas, which would have created three levels, with the second one (maximum of 14 units) with considerable resources and experience. There is some value in the re-consideration of the Bomas proposal," Prof Ghai said.
Council of Elders national chairman Michael Ndung'u also proposed that the number of counties be reduced to a maximum of 14.
"We can have Coast, Lower Eastern, Nairobi, Lower Central, Upper Central, Upper Rift Valley, Central Rift Valley, Lower Rift Valley, Upper Nyanza, Lower Nyanza, Lower Western and North Eastern," Mr Ndung'u said.
In its proposals to the task force, Raila ODM party proposed the creation of 14 regional units which would elect a regional premier to oversee several counties.
Mombasa Governor Hassan Joho called for the creation of a three-tier government, apart from the national and county governments.
Maendeleo Chap Chap leader Alfred Mutua said the 47 counties should be retained but the number of ward representatives be reduced, while the position of Woman Representative be scrapped and incorporated in the 290 constituencies.
"This will reduce the costs of running governments. Reduce the number of MCAs by half and some constituencies be set aside by law to be solely reserved for women," Dr Mutua said.
The Machakos governor said the same principle should be applied to counties so that MCAs nominated to represent specific interests are instead elected in reserved wards.
"This way we end up with 1,450 MCAs instead of the current 2,222. Let us critically examine the practical role of the Senate and county assemblies to determine whether under our circumstances and limited economy, we should continue duplicating duties," he said.
His sentiments were echoed by Wiper Secretary General Judith Sijeny who called for the reduction of wards from 1,450 to 700 but, interestingly, wanted counties increased to 50.
"We propose that the money saved from the reduction of wards should be used to fund three counties. These are Maua, Mwingi and Gucha," Ms Sijeny said.
Thirdway Alliance leader Ekuru Aukot called for the number of MPs to be reduced from the current 416 to 194.
"This will reduce the cost of running Parliament from Sh36.8 billion to Sh5 billion per year," Dr Aukot said.
Data by the Salaries and Remuneration Commission shows that MPs and senators consume Sh6 billion annually, which is 0.3 per cent of the national budget.
Surprisingly, MPs, in their presentations to the BBI, also want want counties and constituencies.
Wage bill
Gatundu South Moses Kuria said that to reduce the burden of representation and the public wage bill, some elective positions would have to be scrapped.
"I propose that there should be no nominated MCA or senator, and no position of woman rep, but only nine nominated MPs - three representing people with disabilities, three representing youth and three representing women.
"We continue to see a high number of elected leaders but without a corresponding improvement in service delivery. One of the sectors where this is evident is the political sector where the number of representatives is unduly high. Each citizen is represented by an MCA, governor MP, senator, woman rep, president and deputy president. They are also represented by 100 nominated MCAs and MPs," Mr Kuria said.
Ndia MP George Kariuki called for counties and county assemblies to be reduced to 12 and election of two senators of the opposite sex, for a grand total of 24 senators.
Mr Kariuki said if his proposal was adopted, the country could save Sh314 billion.
Each of the 47 governors currently earns a monthly salary of Sh1.11 million, minus allowances and salaries of personnel attached to their offices.
This adds up to Sh52.17 million every month and Sh626 million per year. Slashing their numbers by half would save taxpayers Sh313 million per year.
Deputy governors, on the other hand, earn Sh621,250 a month.
Soy MP Caleb Kositany called for the Senate to be abolished and positions of nominated MPs and MCAs scrapped.
Ford Kenya Secretary General Eseli Simiyu called for proportional representation.
"This will lead to reduced cost of government because there will be no need for affirmative action seats and nominations. We will have 290 MPs from the respective party lists to ensure gender balance," said Dr Simiyu.
His views were backed by the Independent Electoral and Boundaries Commission (IEBC) which is proposing a system where parties gain seats in proportion to the number of votes cast for the parties.
"Proportional representation provides opportunities for strengthening political parties and is the most widely used electoral system in the world. It removes focus from personalities and instead focuses on parties," IEBC chairman Wafula Chebukati said.
Narc-Kenya chairperson Martha Karua also called for proportional representation to ensure political party lists comprised "the face of Kenya", saying leaders would pledge allegiance to the country and not a specific region because they were the product of national, not regional, votes.
"Proportional representation will grow parties in content and structure and cure the current burden of six elections in a day since the voter will cast her vote once. Political parties will provide zebra lists with names that will alternate between the two genders," Ms Karua said.
The Universities Academic Staff Union (Uasu) called for the abolishment of the Constituency Development Fund.
"Instead, there should be further devolution of power to the grassroots where counties do not retain much of the power. The counties should allow a situation where, for example, sub-county hospitals collect fees and spend them but account to the county government," Uasu secretary general Constantine Wasonga said.