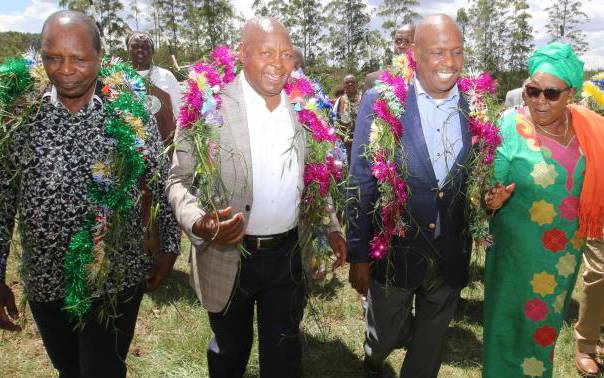 Politics
Leaders offer to build political networks for Kanu chairman in Rift Valley and Western regions.
Elders in Uasin Gishu County have pledged to work with Baringo Senator Gideon Moi. They were speaking at the home of Sammy Kogo, an Uasin Gishu-based businessman and close ally of the Moi family. They had invited the senator to offer their condolences following the death of his elder brother Jonathan Toroitich last month. Gideon, who is also the Kanu chairman, received a warm welcome from businessmen, opinion leaders and elders. The Kanu chairman caused a stir when he arrived in Sugoi, the home area of Deputy President William Ruto.
SEE ALSO: Alarm as town becomes new pandemic hotspot
Prayer ceremony
Kalenjin Myoot Council of Elders held a traditional prayer ceremony and offered the senator their blessings. Peter Lugano, a retired Chief from Likuyani constituency, urged the Baringo senator to follow in the footsteps of former President Daniel Moi, who united the country during the 24 years he served as President. "Your father led a united and peaceful country. We are here to ask you to take our sympathies and condolences to Mzee Moi following the passing on of Jonathan but we must also speak about your intentions to occupy the top seat. We will walk hand in hand with you in that journey," said Mr Lugano. Uasin Gishu elder Ernest Kirui said Gideon had demonstrated ability to unite Kenya and deserves support when he announces his bid for the presidency.
SEE ALSO: If Kenyans elect Ruto as President they will regret — Atwoli
Kirui said elders from the region have critically weighed the abilities of the leaders seeking to succeed President Uhuru Kenyatta and have confidence in Gideon. "Don't worry about those who are already insulting you even before the campaign period begins. We as elders know who the right leaders are and we will make it known when the right time comes," Kirui told grassroots leaders. The leaders pledged to help build political networks for the Kanu chairman in Rift Valley and Western regions ahead of the campaigns. Mr Kogo, a renowned businessman in Nairobi and Eldoret, also pledged to rally the business community behind the Baringo senator. "We have invited a few opinion leaders with experience in the political dynamics of our area. We are doing this in the interest and for the benefit of our people," said Mr Kogo.
SEE ALSO: OPINION: Why Mutua may just amaze Kenyans by becoming the 2022 preferred presidential choice
Strong pillar
Also present during the meeting were former nominated Senator Zipporah Kittony and former Mt Elgon MP Joseph Kimkung who also pledged to spearhead the political networking. Gideon thanked Kogo for supporting his family when he lost his brother Jonathan. "I was out of the country with my family when I received the sad news. It was too shocking for me and I couldn't reason well, but Mr Kogo offered a strong pillar for us to lean on," he said. He assured the leaders that he would embark on countrywide meet-the-people tours.