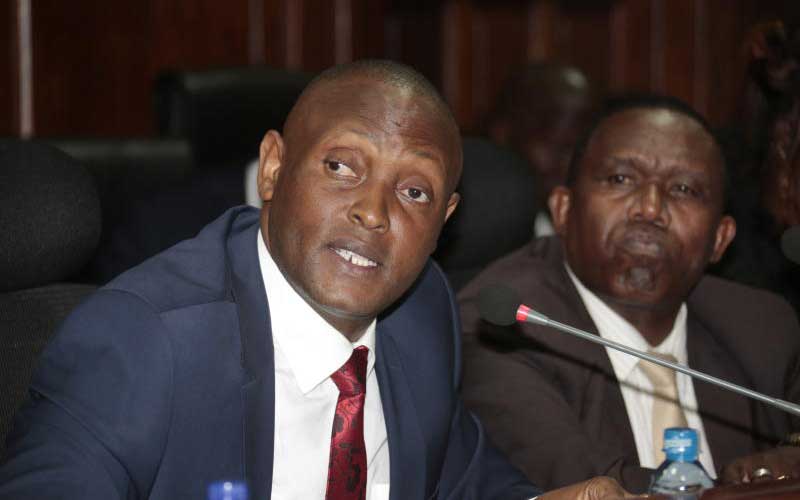 Coast
CEC accompanied the governor during a grilling session by Senate's PAC in Nairobi on Thursday
Taita-Taveta County Governor Granton Samboja has sacked his embattled executive committee (CEC) member for Finance and Economic Planning Vincent Masawi. No reasons were given for the dismissal of the CEC who had also served in the former regime in the same capacity. Mr Samboja retained Dr Masawi and County Chief Officer for Education and Libraries Philomena Kirote who served during the former John Mruttu's administration in his executive. The former CEC said it is the prerogative of the governor to sack and fire ministers among other county staff.
SEE ALSO: Taita-Taveta Speaker grilled over sacking of Mwatate municipality board members
"I sincerely thank the governor for giving me time to serve in his administration and the county residents. Life will continue," said the former CEC. "I have so many things to do. I have so much to do in my hands. I will not take legal action to challenge the governor decision as claimed by certain quarters. The governor has the powers to hire and fire," Dr Masawi told The Standard. The sacking took many by surprise as the CEC had accompanied the governor during a grilling session by Senate Committee for Public Accounts Committee in Nairobi on Thursday. It also comes soon after Majority Leader Jason Tuja tabled an impeachment motion against the former CEC. The Werugha Ward Representative tabled the notice of the special motion on Thursday in a session chaired by Speaker Meshack Maganga. According to the speaker, the impeachment motion was to be debated today for adoption or rejection.
SEE ALSO: Taita-Taveta MCAs now fight role of ward managers
Mr Samboja terminated the services of Dr Masawi, a dairy expert without giving reasons for his decision. "His Excellency, the governor has today (Friday) May 17th this year made the following changes. Pursuant to Articles 179 (6), 200 of the constitution, part 1V of the Public Finance Management Act and section of the County Government Act, H.E the governor has terminated the services of Dr Vincent Masawi as the CEC in charge of Finance," said a short statement signed by the Director, Directorate of Communications and County Government Spokesman Denis Onsarigo. The governor appointed the CEC in charge of Agriculture, Livestock and Fisheries Davis Mwangoma in an acting capacity. The changes take effect immediately, said the brief statement.
SEE ALSO: Samboja suspends assembly services
"This is a government decision and changes in government do come from time to time," said Onsarigo in an interview with
The Standard
.