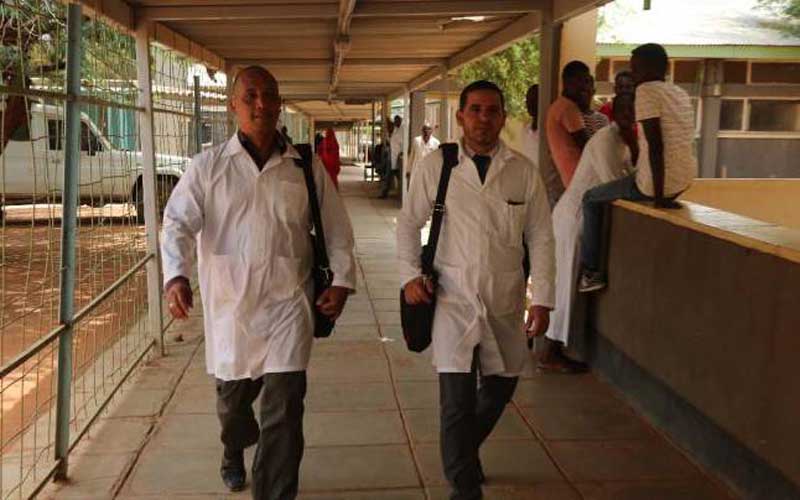 Suspected Al-Shabaab militants who are holding two Cuban doctors after their abduction in Mandera are now demanding Sh150 million in ransom.
The ransom demand was communicated through community elders who went to a remote area between the towns of Buale and El-Ade in Jubaland region of Somalia.
This is where general practitioner Herera Corea and surgeon Landy Rodriguez are said to have been seen alive by the elders who were sent to negotiate their release.
After days of negotiations, community elders from Mandera and Bulahawo in Somalia who travelled to the area confirmed that the two are alive and offering treatment to the community in a restricted environment.
"They seem to be under the care and offering medical care services to the locals," said a security official who cited the elders' message.
But officials in Mandera dismissed the claims as premature and farfetched saying this was not official for now.
The doctors were abducted on their way to work from home in Mandera County on April 12, 2018.
Officials say authorities in Kenya have sent back the elders seeking to further negotiate the ransom.
Other reports say the two were abducted by bandits who handed them over to suspected the Al-Shabaab militants who subsequently sought the ransom from the group of elders allegedly through proxies.
The bandits were used by over business rivalry in Mandera after it emerged the doctors had sharply led to the drop of cost of medical services in the area.
A team of security officials from Cuba had come to Kenya and visited Mandera as part of the efforts to trace the whereabouts of the two abductees.
The abducted doctors are among 100 Cuban specialists who arrived in the country in June 2018.
Following the abduction, Cuban doctors posted in Wajir, Garissa and Tana River were recalled and reassigned other counties.
An Administration Police officer who was among two escorting the doctors was killed during the incident that has raised fresh security concerns in the volatile region.
The driver who was taking the doctors from their residential area to work has since been arrested and was being interrogated.
In Cuba, a health ministry statement read on television said: "Channels of communication have been established immediately with the Kenyan authorities to address this situation while keeping the collaborators' family members here in Cuba informed. Likewise, a government working group has been set up to follow up on this sensitive issue."
Last November, an armed gang seized Silvia Romano, 23, an Italian charity worker, in the southeastern town of Chakama. Her whereabouts are unknown.