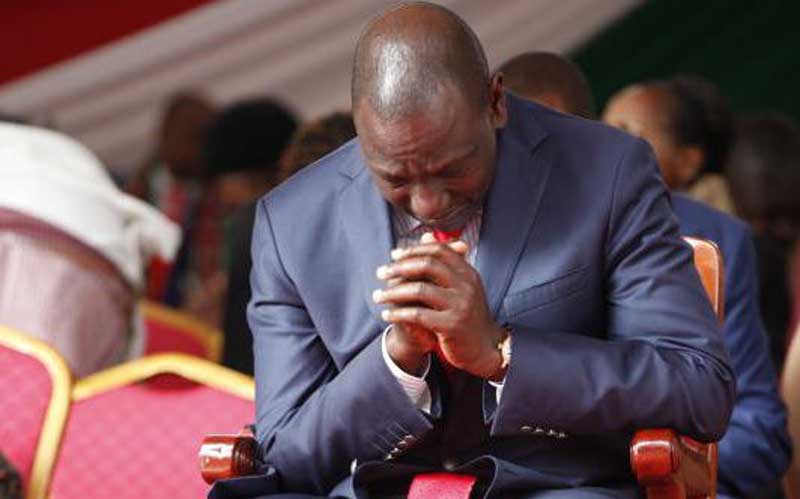 I knew the cancellation of the much-publicised "prayer rally" scheduled to be held at Kenol Trading Centre in Murang'a County would generate varied reactions. This is because the clergy from the area, who were the main organisers, narrowed the preparations to the attendance of Deputy President William Ruto (pictured). This was interpreted to mean that their intention was not about spreading the word of God and offering spiritual nourishment but rather to provide Ruto with a platform to push his political agenda of succession.
SEE ALSO: Political threshold a must to impeach a governor
The organisers had earlier cancelled the same rally after it emerged the DP was unable to attend. That weekend, he attended the burial of former President Daniel Moi's son, Jonathan Torotich. When he took the instruments of power, President Uhuru Kenyatta reiterated that no more blood would be shed in our country because of election contests. So, he had a good reason to keep the DP out of his handshake with Opposition leader Raila Odinga. The same reasoning informed Raila's decision not to involve his core-principals in NASA in the initial stages. Since then, the two leaders have continued to extend a hand to all the leaders across the board while maintaining the handshake is about building a united and cohesive Kenya. One of the clergymen stated the prayer meeting would give the deputy president an opportunity to unveil his plan of penetrating Mt Kenya region. He also hit out at President Kenyatta for allegedly failing to include the DP in his handshake with Raila, saying this amounted to excluding a whole community.
SEE ALSO: Another Ruto ally booted from helm of parliamentary caucus
The claims made by one of the clerics, who was a key organiser of the aborted "prayer rally", were misplaced and made in bad faith. The question that would come to mind is. Was this man truly a servant of God? This is because his utterances were meant to drive a wedge between Uhuru's and Ruto's ethnic blocs. I agree Mt Kenya is a stronghold of Uhuru but one thing is clear. The President is doing his second and final term. So, he is not interested in running in 2022, though he can serve in another capacity if given an opportunity. Therefore, we understand where the President is coming from. He wants to leave a legacy and he knows the ongoing politics of succession poses a serious threat to his plan. The Ruto brigade has not heeded his call to shun politics and instead support the Big Four agenda. If the Jubilee administration fails to deliver on election pledges, do they expect the DP to realise his dreams of succeeding Uhuru? To me, the answer is a resounding No. The DP's allies should change their strategy.