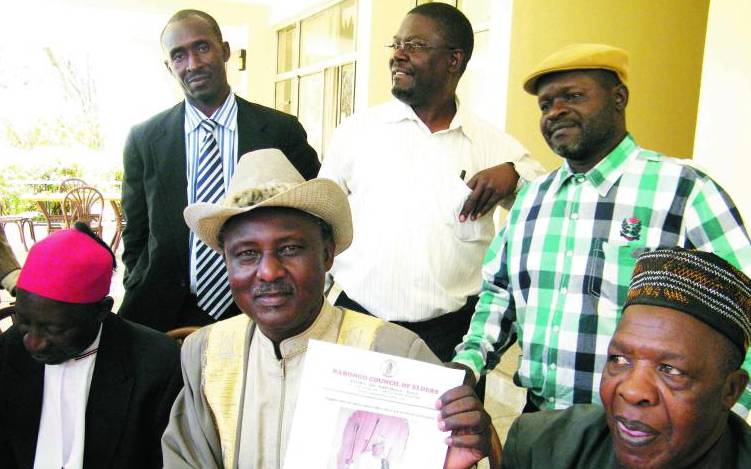 Politics
Siasa zinanoga eneo la Kakamega huku Wazee wa Wanga wakimkana Seneta Cleopas Malala. Wazee hao wamesema Seneta huyo sio mmoja wao jamii hiyo.
Seneta wa Kakamega mheshimiwa Cleophas Malala amekumbana na wakati mgumu baada ya kukabiliwa na Baraza la Wazee wa Wanga maarufu kwa kimombo kama (Wanga Council of Elders) wakimkana peupe na mchana kwamba siyo mmoja wa familia yao. Wakiongozwa na kinara wao, Peter Nabongo wanadai kwamba seneta Malala kamwe hafai kujumuishwa pamoja na tadi na inda za jamii ya Waluhyia wakisema kwamba hapaswi kuorodheshwa katika mipango ya ndani ya kijamii kwa kuwa yeye ni wa kutoka kwa jami ya Luo. Wanasema kulelewa kwake Kakamega hakuwezi kumfanya afure kichwa kiasi cha kujidai kuwa ni mmoja wao kikamilifu. Kwao ni kiongozi wa siasa kama mwakilishi wa bunge la seneti lakini hana nafasi ya kushirikishwa kikamilifu kijamii. Nabongo alimtaka Cleophas kujitenga na maswala yanayo husiana na jamii ya Luhya maana kwamba babake Malala alikuwa mgeni wa jamii hiyo wakati alipokelewa na kupewa hifadhi kama mgeni wa kwenda kabla ya kupata mke (mamake Malala) na kuanza kujenga famila na kusahau kurejea kwao Nyanza. Maneno hayo ya Nabongo ilichangiwa na baadhi ya viongozi wa kisiasa kutoka katika jamii ya Luhya wakiwemo wabunge Didmus Barasa wa Kimilili na Justus Murunga wa Matungu pamoja na wawakilishi wadi miongoni akiwemo Wamusai Simiyu Wadi ya Siboti kaunti ya Bungoma. Wamusai alimshambulia Malala kwa madai hayo akiongezea vidonge vya kutia mada chachu kwa maneno ya kisiasa ya kumkejeli kwamba Malala amelelewa katika jamii ya Waluhya, amenolewa kisiasa na Waluhya
SEE ALSO: Uhuru pays tribute to Wangari Maathai as he leads nation in marking Environment Day
na sasa muda wake wa kurejea kwao umewadia wala aepushe msongamano wa kisiasa katika mkoa wa magaribi na badala yake kuanza kutafuta umaarufu katika mkoa wao wa Nyanza kwani ndiko iliko jamii yake nzima. Malala alijitetea kwa kuyakanusha madai hayo na kusema, yeye ni wa jamii ya Waluhya asili na madai hayo ya Nabongo ni ya uongo na uchochezi. Anasema yeye yuko tayari kusimama na jamii hii hadi dakika ya mwisho. Malala pia ameweka wazi hoja zake kuwa amehudumia jamii ya Luhya katika serikali tangu akiwa mwakilishi wadi na miaka miwili kama seneta. Aliendelea kujitetea kwamba amewahudumia wananchi bila kujali jamii au ukabila. Malala anaongeza kwamba anajua madai hayo yanatokana na ukaribu wake na kinara wa muungano wa Nasa Raila Odinga. Anasema madai hayo ya propaganda hayata mzuia kufikia azma yake ya kuwapigania wananchi wa Kakamega. Malala wakati huo huo amempasha Wamusi kuwa dalali wa kisiasa na wala wananchi hawafai kumwelekezea sikio. Badala yake Malala anasema kuwa anamchukulia kama mtoto mtundu anayekosa heshima kwa wazazi wake akimwagiza kwamba ashughulikie matatizo ya wadi yake na kuhudumia wananchi badala ya kuropokea masuala yanayimhusu seneta.