Alexander Chagema
Where a chain of adjectives and verbs are used in a sentence, they are separated by commas.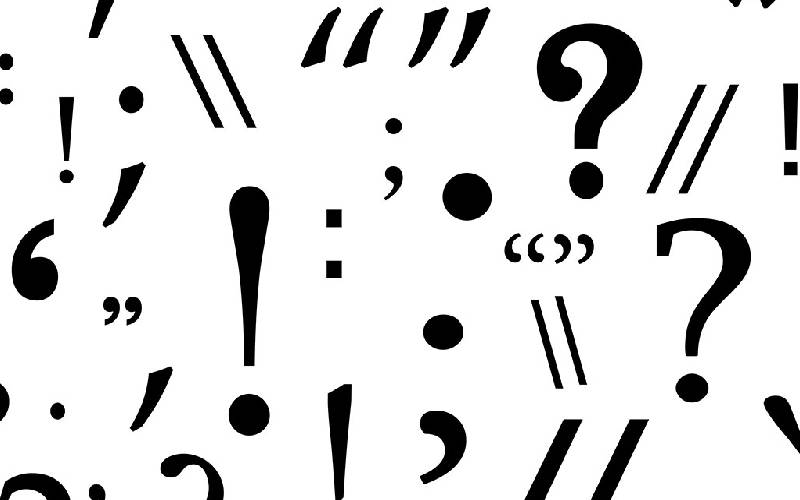 Our Muslim brothers and sisters are celebrating Ramadhan. It is a month of fasting, prayer and reflection on human values. Islamic terminologies are in Arabic, which makes it hard for some of us to understand them. Thus, I was entertained by a post on social media. Two ladies were conversing via text messages. LINDA; "Hi Fatma. I heard you gave birth". FATMA; "Hello Linda, that's true. Two weeks ago I gave birth to a baby boy Alhamdullila". LINDA; "Awh how cute. Congratulations on the birth of Alhamdullila". While to Fatma 'Alhamdullila' is giving praise to the almighty God, to Linda, it is the name of the new born baby.
SEE ALSO: Standard, Safaricom in pact to sell digital newspapers
Besides the obvious misunderstanding arising from different religious backgrounds and their unique terminologies, the use of a coma before the name 'Alhamdullila' would have precluded any misunderstanding. That omission highlights the power of punctuation marks and why we must pay particular attention to them. Punctuation makes give clarity, help us make sense of writing and show us where the stress is in a sentence. Commas give readers time to pause and catch breathe. Besides, they help in assembling logical groupings, like independent clauses. For example, "I ran into a former schoolmate, we went to a pub to celebrate, and afterwards we parted ways". The comma helps in making every single item on a list stand out. For example: "He stepped on the doormat, carpet and onto the settee".
Non-defining
Where a chain of adjectives and verbs are used in a sentence, they are separated by commas. For example, "Ruto is aggressive, opinionated, daring and smart". "She jumped, tripped, fell and broke her arm". Commas should be used to enclose non-defining clauses, details or comments. They are called non-defining or essential because their omission would not in any way change the meaning in a sentence. For example "Uhuru Kenyatta, the fifth president of Kenya, is a man under siege". The non-defining, non-essential phrase here is "the fifth president of Kenya".
SEE ALSO: Idd celebrations with a difference
Tag questions, or question tails invariably feature commas. Tag questions start by mentioning what is assumed to be factual, then pose a question that seeks to affirm the assumed. For example, "Joseph is a teacher, isn't he? Commas also come immediately after interjections, for instance: "Yes, she finally accepted the proposal to marry me".
The pronoun
The use capitalisation is another challenge for many. Last week, I came across an opinion that was every bit erudite, except that every single word started with a capital letter. This type of writing is not only ungainly, it violates rules regarding where and when to use capital letters. As a rule, proper nouns; names of people, titles (Dr, Prof), mountains (Kilimanjaro, Everest) , hills, rivers, lakes (Albert, Victoria), oceans (Indian, Pacific) seas (Red Sea) seasons (Winter, Summer), buildings (Empire State, Afya House) cities (Nairobi, London) countries (Kenya, United States of America, Canada) monuments, book titles, months of the calendar(January, February, October), days, holidays (Madaraka, Labour Day, Jamhuri), language names (English, French, Dholuo, Luhya) street names, schools, newspapers (The Standard, Nation) and books must begin with a capital letter. Only the first letter of the first word in a sentence, unless it is followed by a pronoun or proper noun, should start with a capital letter. Whether at the beginning of a sentence or anywhere else within it, the pronoun 'I' is always in capital. The first letter of other pronouns can only be in capital if used at the beginning of a sentence. It important to remember some of these simple rules. However, there are those among us who find this tedious. To dissuade others who might be willing to learn, they normally advance the argument that English is not our language; why bother if the stringing together of a few disjointed words can enable others understand you?
SEE ALSO: Ramadhan: Lessons for Muslims, non-Muslims
Because such are defeatist arguments, let us bear in mind that as we all aspire to become 'something' in life, we operate in a global village where English is the universal communication and business language. French has its claim too, but English has the pride of place. The day any of you will go to an office to sign a business or work contract in your mother tongue, or any of the local lingua franca (excluding Kiswahili), keep me in the loop.
Mr Chagema is a correspondent at The
[email protected]