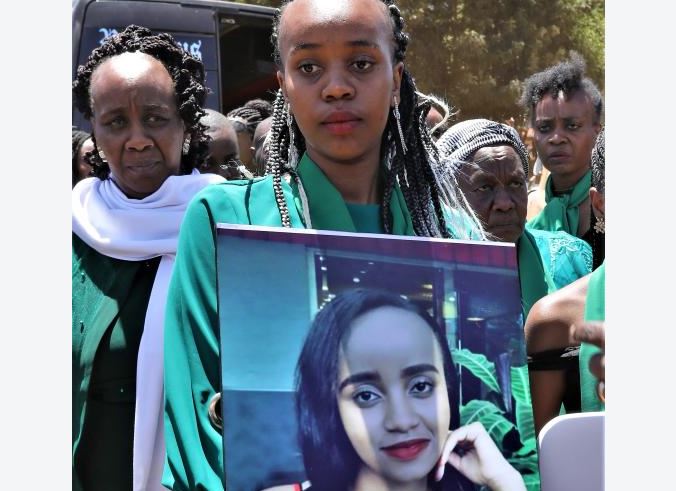 Ivy Wangechi, the Moi University medical student killed last week, was buried at her family home in Mahiga, Nyeri County yesterday, where speakers called on young people to learn how to handle rejection. The killing of Ivy sparked off a conversation over increasing cases where women are being attacked and some killed by lovers. Mr Naftali Kinuthia, accused of killing Ivy, has been detained to allow the police conclude investigations into her death. Political and religious leaders who attended the burial tore into some of the comments made about Ivy on social media urging the public to respect the privacy of her family.
SEE ALSO: Keroche heiress lover to face murder charge
Her mother, Winifred Kingori, who fondly referred to her as 'Ivyline the Medicine woman', described her daughter as her best friend whose life had been snuffed out too soon. "Ivy, it is all darkness around me. I do not know where the next step will lead me," she said. Her grandmother Beatrice Wangechi, whom Ivy was named after, said while she would bear the loss, she'd forgiven her killer. "I have forgiven the person who did this to you. I can't ask him questions but God will. What gives me strength is knowledge even Jesus Christ died a painful death without committing a sin," she said. Over 300 people attended the funeral service at Mahiga Primary School in Othaya Constituency.
SEE ALSO: DCI mulls inquest on children found dead in car
The mourners included her family, friends from Thika where they lived, as well Moi University and Alliance Girls High School staff and students. Her classmates were dressed in black T-shirts emblazoned with stethoscope-shaped hearts. The convoy escorting Wangechi's body arrived at the school at 12:15pm. Her family then carried the white casket, her portrait and a white cross from the the hearse to the dais. Staff and students of Moi University said it has been tough for them coming to terms with the death of Ivy who they described as jovial and inquisitive.