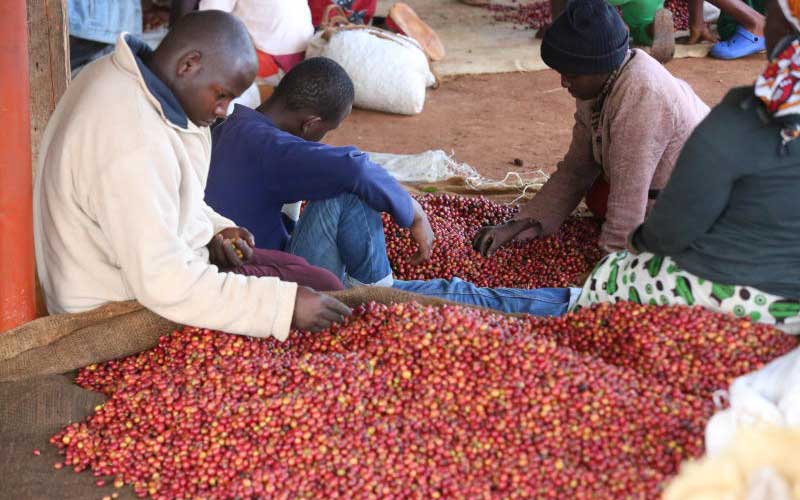 Commentary
How they are stealing from coffee farmers
Last December I brought the President a gift from the USA. My intention was to thoroughly annoy him into action. The gift was a small white coke-like can that was written on "Roasted Kenya Coffee". Nothing more. Priced at $10 for 100gms. That adds up to $100 per kilo. Our farmers get less than $2 per kilo. Are we retarded? Unfortunately, the president's handlers refused to deliver my gift. Mr President, if you are reading this, the gift is waiting for you, but we must act. This is called "value addition". Take any raw crop and add any processing and it increases in value. The Americans roasted our coffee beans, packed them into a white can and sent them to the supermarket. Our two dollar coffee beans increased to a hundred dollar coffee. Germany is the third largest exporter of coffee after Brazil and Vietnam. Coffee does not grow in Germany, yet she is the third largest exporter of coffee. How and why? They import raw coffee, add value and suddenly Kenyan two dollar coffee becomes German billions. Germany exports $2.94 billion of coffee while Kenya earned $265 million. Dubai has set up a coffee exchange. They provide storage and roasting machines and before long Dubai will sell more coffee than Kenya.
SEE ALSO: Coffee farmers risk losing in wrangle
It is time that Kenya imposes new laws to force exporters to start processing coffee here. By 2020, all exporters must process at least 10 per cent here. Exporters will complain, but will eventually comply. Other countries have done this.
Smuggled coffee
The problem with Kenyan coffee is that it is over regulated with laws set up in the 1930s, supposedly to protect farmers. Have they achieved that? No. Kenyan farmers are abandoning their farms. Coffee production has dropped from 128,000 tonnes in 1988 to 40,000 today. Meanwhile Uganda, which used to produce 5,000 tonnes in 1989, has reached 209,000 tonnes. In the 1970s Ugandans used to smuggle coffee into Kenya because we had higher prices, now Kenyans smuggle coffee into Uganda. Uganda is East Africa's largest coffee exporter — and our smuggled coffee adds to their numbers. How did they do it? They scrapped all the antiquated colonial laws and liberalised the market. They started an impressive strategy to assist the farmers. It has worked miracles. Numbers don't lie.
SEE ALSO: Fresh start: New KPCU takes back three mills
We should stop wasting government money with endless commissions and simply use Uganda's formula. There is no glory in reinventing the wheel. The current coffee laws are skewed towards protecting the exporters. The whole industry is dominated by a monopoly of eight companies that account for over 90 per cent of the exports. Do you expect them to have the interest of the farmers or of their principals abroad? Why are there such severe restrictions in allowing export licences? Why should one have to put up a million dollars to get an export permit — which is still almost impossible to get? Why is government tolerating this nonsense? The coffee industry is being stifled by various exploitative boards imposing their own licences.
Trusted names
In the 1990s the same barriers existed in the oil industry that was dominated by five international majors. The day those restrictions fell, local companies came into the industry and today Kenyan companies have 60 per cent market share. We need to do the same with coffee. The stubborn fact is that the laws supposedly designed to help farmers have not helped in the last 50 years. Scrap them. Kenya's agriculture was largely driven by cooperatives set up to assist farmers. Organisations like the Kenya Farmers Association (KFA) and the Kenya Coffee Planters Union (KPCU) were trusted names that helped the farmers. These organisations were run down by mismanagement and corruption to become shells of what they used to be. KFA has debts of around Sh700 million but assets of over Sh5 billion.
SEE ALSO: CS quizzed over Sh1.5b coffee fund
The same applied with KPCU. Yet the banks, like vultures, were determined to declare them bankrupt and auction their assets. Government should bring in turn-around professionals to help these organisations return to profitability and then privatise them through the stock exchange with farmers being given first option to buy shares. There should be no restrictions to buy, sell, process and export. Government's desire to help with subsidies and bailouts reminds one of former US President Reagan's famous quip that the most scary words are "we are the government and we are here to help you!" The reality of our agriculture is scary. Coffee, sugar, pyrethrum, cashew nuts, Bixa, maize and coconuts industry are all in trouble. If we continue doing things the same way we have been doing for the last 50 years, we will continue seeing the decline. It's time to do things differently. Scrap those colonial rules and set the market free. We owe it to our farmers.
Mr Shahbal is Chairman of Gulf Group of Companies
[email protected]
SEE ALSO: Coronavirus brews trouble for tea, disrupts supply as demand spikes