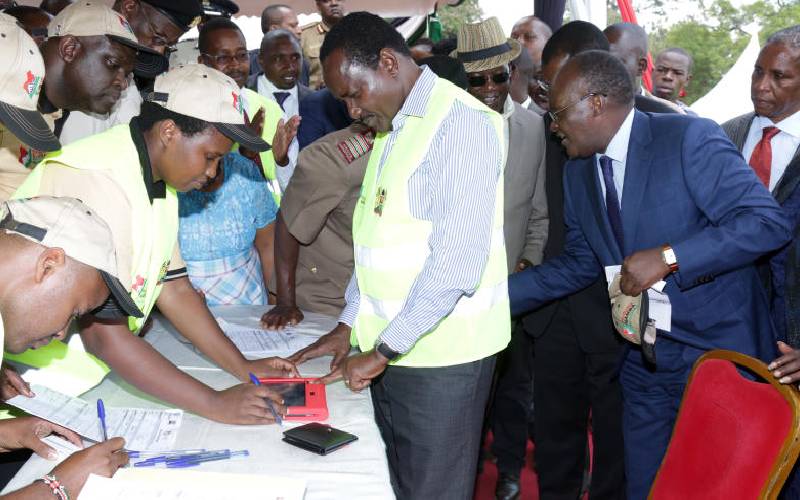 People without Huduma Namba will face an uphill task applying for a passport, Immigration Principal Secretary Gordon Kihalangwa has warned.
Mr Kihalangwa said his department was banking on the success of the National Integrated Identity Management System (NIIMS) as "a single source of truth" to weed out illegal immigrants.
"If you are not in NIIMS and you are applying for a passport, we will know very well that you are not a Kenyan," said Kihalangwa.
NIIMS is a mass biometric registration system to create, manage and store Kenya's population data.
"If that programme succeeds it will actually address our problems because then we will have the data with us because then we can interrogate," he said.
Registration for NIIMS was launched last week by President Uhuru Kenyatta. Upon registration, one is issued with Huduma Namba that consolidates their crucial documents such as identity card, driving licence, passport or alien cards.
Kihalangwa said his department has the Integrated Population Registration Services (IPRS), but NIIMS is a game-changer.
Rights lobbies
"Now NIIMS is a total upgrade and that is why it must succeed. It will not only assist us in security matters but also in service delivery," he said.
Human rights lobbies, led by Kenya Human Rights Commission (KHRC), have asked Kenyans not to register for Huduma Namba due to weak data protection laws in the country.
The High Court has also ruled that the Government cannot tie access to Government services to registration under NIIMS.
Kihalangwa was speaking at Nyayo House where he was welcoming Ethics and Anti-Corruption Commission officers who are embarking on a two-month "monitoring exercise" of the Immigration department.
The exercise seeks to review implementation of reports done by EACC on Immigration's departments and ports of entry conducted in 2005 and 2015 respectively.
Four EACC officers will pitch tent at the Immigration department for two months, with the outcome of their audit expected to seal corruption loopholes.
Kihalangwa admitted they have challenges, including on integrity and failure in their systems.
"I know it is not possible to have zero corruption but corruption that is big enough to affect the security of a country is not good," he said.
EACC boss Twalib Mbarak said the audit is a "proactive way" of securing the country especially Kenya's "porous borders".