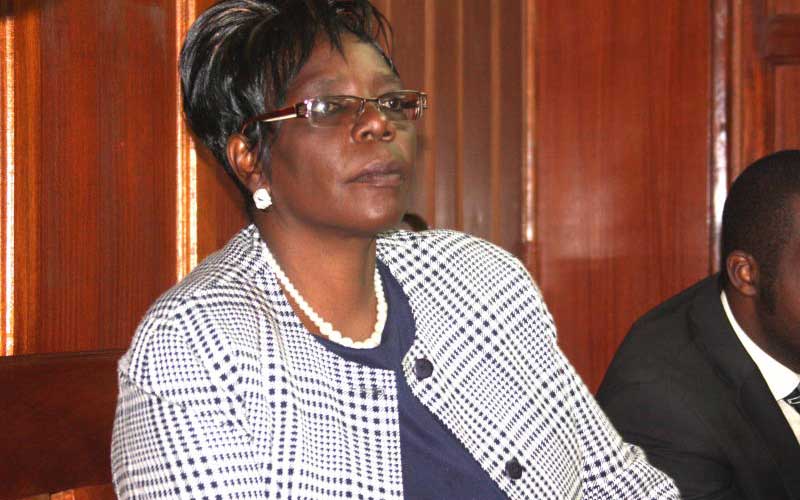 Former NYS Deputy Director General Clare Chaddah Lwali (pictured) was laid to rest in her rural home in Busia yesterday, leaving behind a tale of going to hell and back. Lwali died just four days to her 55th birthday on March 22, having worked her way up from a junior officer at National Youth Service through dedication and determination, which saw her become one of the few women to occupy high positions in the troubled institution. For the past three years, the NYS has been associated with high-end corruption with allegations that the institution, which was established to cater for youth's welfare, was turned into a cash cow. The institution has claimed the heads of several big guns in government. Former Devolution PS Peter Mangiti, former NYS Director General Nelson Githinji and 23 other suspects were subsequently charged with conspiracy to steal Sh791 million from the NYS.
SEE ALSO: Is Waiguru on her own or will Jubilee politics save her?
Then came the second NYS scandal where former PS Lillian Omollo, former NYS Director General Richard Ndubai, his former assistant Nicholas Ahere and former Finance Director Wellington Lubira are facing various charges of Sh467 million theft from the institution.
Graft dragnet
Lwali did not escape the corruption dragnet at NYS and was charged in November 2016 with abuse of office and wilful failure to comply with procurement laws. According to the prosecution, she used her office to confer a benefit on Naro Moru River Lodge by approving the payment of Sh4,476,000 for accommodation and conference facilities without the approval of the tender committee. She faced her accusers head-on and on March 16, 2018, anti-corruption magistrate Felix Kombo acquitted her for lack of evidence. Mr Kombo ruled that the former NYS Deputy Director acted in good faith and that none of the allegations brought against her could be proved. Lwali also took on her former boss, Richard Ndubai, who attempted to evict her from a government house she was occupying at NYS headquarters by virtue of her high position. Her will to fight is what made her family celebrate her life as they laid her to rest in Butula, Busia County.