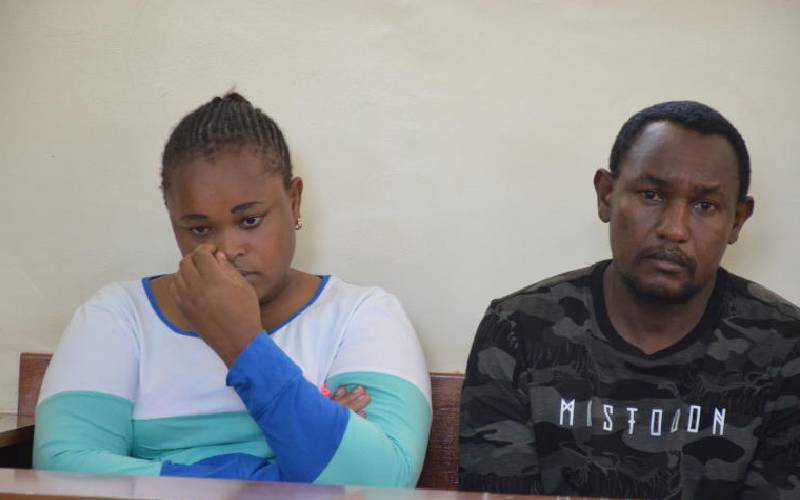 Judy Wangui, the woman charged with the murder of businesswoman Mary Wambui Kamangara might have also targeted Ms Wambui's husband Joseph Kori and children. This is according to an investigator, who testified at the Kiambu High Court during bail application hearing for Wangui and James Mathenge. Wangui and Mathenge are charged with killing Wambui on January 27. They have denied the charge. Wambui's body was dumped in a dam in Juja. Oliver Nabonwe, the investigator, in a sworn affidavit, told Judge Christine Meoli that Wangui and Mr Kori had an affair. He, however, added that by the time of the murder, Kori had parted ways with Wangui, which had made her target him and his family for revenge. "We have established that on January 25, Wangui was stalking the deceased's family and had spent time trailing them at their residential house at Safari Park estate," Mr Nabonwe told the court. "We are not certain that the deceased was her main and only target, and if the accused is released on bond, the safety of the bereaved family, who are key witnesses in this matter, cannot be assured." The detective noted that some of the witnesses in the case were Wangui's relatives, who could easily be induced not to testify. Police have opposed bail applications for both suspects. Nabonwe told the court that his assertions were supported by Wangui's mobile subscriber data and statements from security guards at Safari Park estate.
Vulnerable witnesses
He said some of the witnesses were vulnerable. They include a six-year-old child who can easily be intimidated not to testify, or have his evidence doctored. Nabonwe noted that there was overwhelming evidence that Wambui met her death at Wambui's residence in Fourways Junction Estate, Daisy Court number four block F, house number 86. The detective asserted that Wangui was the last known person to have been in the company of Wambui, having left Homeland Restaurant and gone to Fourways Junction estate together. "The autopsy established that the cause of death was brain concussion, which was due to blunt force trauma, an indication that the deceased was hit with a blunt object on the head," read the affidavit. Nabonwe said part of the evidence police had was a blood-stained knife recovered from the house the murder occurred in, and blood stained clothes. There is also Wambui's car, a Marcede Benze, which had blood stains. Nabonwe said some cars, which are exhibits in the case, were operating a car hire service under Mipals Travel Adventure, a company owned by Mathenge. He said their owners were witnesses in the matter, and considering their relationship with Mathenge, their evidence could be compromised if Mathenge was released. He said Mathenge had given a detailed account of how he and Wangui transported and disposed the body. Prosecution Counsel Christine Ndombi supported the application by police, saying chances of the defendants absconding court once released on bail were high. "The overwhelming evidence adduced against the defendants justifies that they be denied bail. The seriousness of the offence also gives credence to our stand," said Ms Ndombi. Wangui's lawyer Cliff Ombeta said it was her constitutional right to be released on bail. "In order to deny the accused her fundamental right, the prosecution must table evidence that the accused will abscond court or will interfere with witnesses should she be released on bail," said Mr Ombeta. He said it was too early to assume at the moment that whatever the police were presenting was enough to warrant a conviction. Kori, who had been arrested together with Wangui and Mathenge, was released last month. According to police sources, forensic analysis of Kori's phone, as well as witness statements, exonerated him from the murder. In his statement to detectives, Kori said he last talked to Wambui at 4pm on the day she was killed. He said he hang up the call after his wife informed him that she was with Wangui.