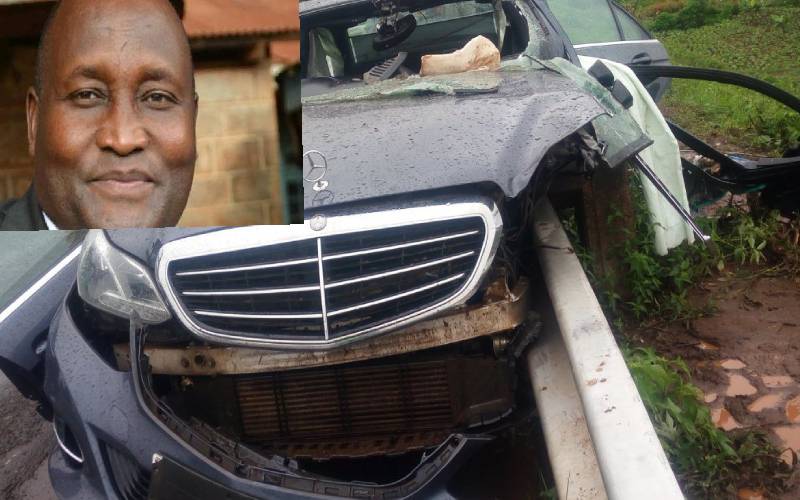 The public inquest into the death of former Nyeri Governor Wahome Gakuru will start afresh in June. This follows the arrest of a trial magistrate in connection with murder of her husband. The inquest, at the Nyeri law court, suffered a setback after the first hearing following the arrest of Senior Resident Magistrate, Maisy Chesang who is accused of being behind the murder of her late lawyer husband Robert Chesang. Nyeri Chief Magistrate, Wendy Kagendo, directed the inquest to restart on June 25 after the state applied to have the hearing proceed.
SEE ALSO: Keroche heiress lover to face murder charge
The inquest is trying to establish circumstances that led to the Governor's death in a road accident at Kabati area along Nyeri-Nairobi highway on November 7, 2017. Ms Kagendo further said the inquest would proceed for seven days up to July 11 so as to have the matter finalized expeditiously. The late Governor met his death when his official car- Mercedes E250-car hit a guardrail that tore into the car from the front passenger seat where the governor was seated and exited from the boot. At the start of the inquest, three witnesses led by late governor's private Personal Assistant Josphat Maina and two bodyguards, Corporals Peter Maigua and Samson Lekol gave an account of what transpired during the fateful day. The witnesses told the court that following the crash, the governor stayed at the scene for more than 40 minutes bleeding profusely before any help arrived.