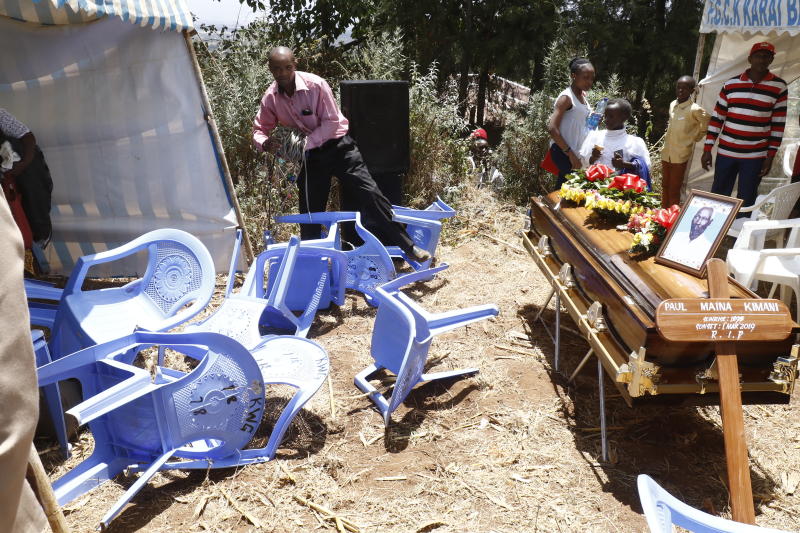 Property ownership documents at centre of dispute pitting son and other family members. Chaos erupted during a burial in Mugwathi village in Bahati, Nakuru County, following differences between family members. Paul Kimani's burial was put off and the body returned to the mortuary under tight security after violence broke out. The elderly father of six died on March 1 in Naivasha where he had been living with one of his children for the past three years.
SEE ALSO: Resident wants Sh20b Nakuru budget shelved
According to the family spokesperson, Maina succumbed to age-related illnesses. Before moving to Naivasha, Maina lived in Bahati with his only son, John Macharia. Macharia accused an in-law of keeping the family in the dark on his father's burial arrangements. He further alleged that there were plans to take the old man's property. Prior to his death, a frail Maina had travelled with his legal documents, including his land title deed, to Naivasha. There were also claims that members of a church in Bahati that Maina attended had been left out of the burial plans as another church in Naivasha took over. The Naivasha-based church also came to the venue with food for the guests. They had hired chefs to do the work.
SEE ALSO: 'Killer' mother unfit to stand trial
Fracas broke out immediately after the preacher ended his sermon and sought to have the pallbearers carry the casket to the grave. A scuffle broke out after an elder declared that the burial would not take place until Maina's legal documents were provided. Chairs flew as the rival groups clashed, with Maina's son supporting the elder's declaration. Area chief Area Chief Josphat Gatuma with the assistance of police officers deployed to the venue calmed down the situation for some time.