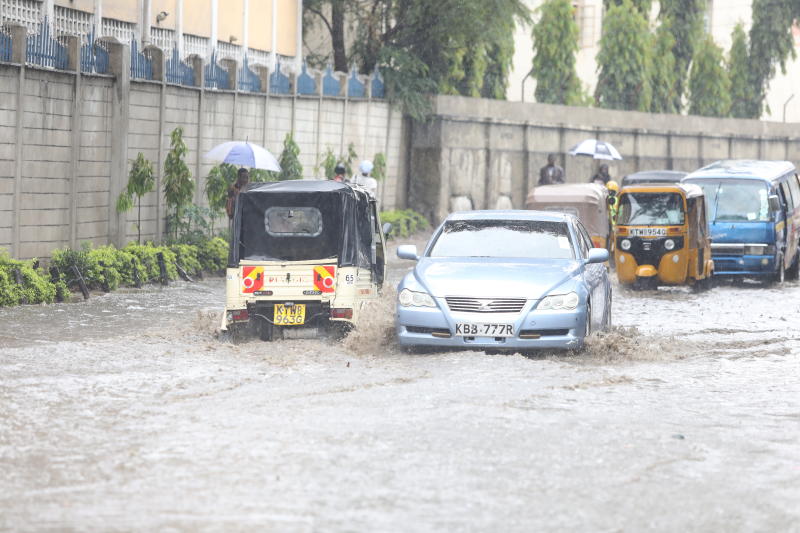 Hours of heavy rainfall across the Coast region have led to flash flooding.
This has sparked fears of displacement, landslides and disease, especially in congested slum areas.
Sources at the Meteorological Department and Kenya Red Cross Society said nonstop rainfall yesterday, measuring between 50mm and 75mm, was experienced in Kwale, Mombasa, parts of Tana River like Garsen and most parts of Kilifi County.
Most parts of the Coast experienced storms rarely seen locally. There was poor visibility on roads, especially in Kilifi. Taita Taveta reported chilly and cloudy weather, with Wundanyi and Taita Hills areas experiencing light showers.
By mid-afternoon yesterday, Mombasa streets were flooded. Homes and establishments were evacuated after residents complained that water had sipped through burst underground pipes. There were also claims that burst sewers emptied debris and raw sewage into some city streets.
On Sunday, the meteorological department announced that the southern and northern parts of the Coast would experience heavy rainfall on land and in the ocean, and warned of possible flooding, especially in plains.
Kenya Red Cross Coast Regional Coordinator Hassan Musa told The Standard last evening there were no reports of causalities or displacements.
"There has been nonstop rains across most parts of Coast today (yesterday) since morning. The meteorological department told us there would be nonstop rains for days running into Friday," Mr Musa said.
He urged those living in flood-prone areas to move to safer ground, adding that fishermen had been warned against venturing into the ocean. "We are fully on the ground, we have sensitised our people and are ready to intervene anytime," said Musa, as reports mounted that Kisauni, Nyali and Changamwe had been marooned.
There was fear of landslides in Tudor and Kisauni, where streets and houses were flooded. In Diani and Ukunda, most open-air markets were deserted due to the rains that were still pounding by 5.30pm.