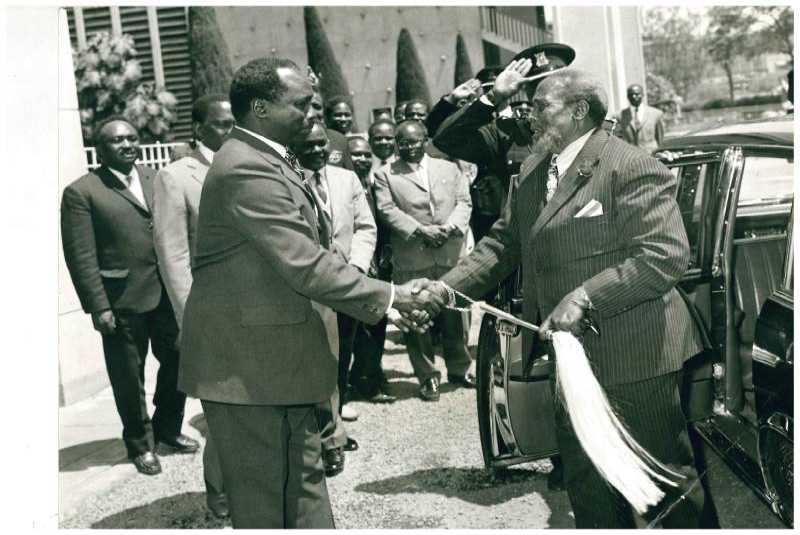 When two wealthy and powerful MPs engaged in political chit chat as their plane soared over Europe on their way to Geneva, little did they know that they were flirting with the hangman. The year was 1976. One seat was high flying nominated MP Njenga Karume, the wealthy Kiambu politician who controlled the purse strings of the Gikuyu Embu Meru Association, simply known as Gema. His pal was the cantankerous Nakuru North MP Kihika Kimani, who was also a prominent Gema leader and acted as the eyes and ears of Jomo Kenyatta in the Rift Valley. On this occasion, they were concerned about the declining health of Kenyatta. Although such debates could only be conducted in whispers in Kenya, these two were not constrained by such fears for they were not ordinary mortals and they were in Europe's airspace. Kihika disliked Moi, whom he treated with contempt and did not for a moment think the Vice President could occupy State House when Kenyatta died.
SEE ALSO: Simple questions we should ask ourselves about police reforms
Although the topic was a taboo, the race to succeed Kenyatta had been on for a number of years, especially after it became evident his health was failing. Charles Hornsby, in his book, Kenya: A history Since Independence, says the succession battle started in 1966 after Kenyatta suffered his first stroke or thrombosis in mid-1966 and was incapacitated for some days. Although this was kept secret, rumours concerning his health abounded and were given more credence when upon recovery Kenyatta appeared in public, mid-August, declaring that he was well and not in a casket as had been rumoured. Even in Kenyatta's inner circle, there was a bitter struggle that had torn apart the President's son, Peter Muigai, who dreamt of one day succeeding his father, and Jomo's physician-cum-minister, Dr Njoroge Mungai. Mungai had been scheming for the creation of the post of prime minister, believing this would put him above other contenders. Duncan Ndegwa, former Secretary to the Cabinet, states in his biography, Walking in Kenyatta's struggles: My story, that Muigai hated Mungai for trying to create the post of prime minister. He used his machinations to have Dr Mungai lose his Dagoretti parliamentary seat. Mungai too had a powerful enemy in the name of Charles Njonjo, who was Attorney General.
Another stroke
By 1971, Kenyatta's health was a concern and according to Hornsby, although the President was almost 80, and still alert, the British government had already prepared telegrams from their Queen and Prime Minister in readiness for Kenyatta's death. There were fears he was likely to suffer another stroke. The British government preferred Mungai as Kenyatta's successor. In 1970 the British High Commission in Nairobi described as "outstandingly best presidential candidate". In the midst of all this scheming and jostling for power, the powerful cabals grossly underrated Kenyatta's Vice President, Daniel arap Moi. Moi had been appointed Vice President on January 1967, aged 43. This was after the shock resignation of Joseph Murumbi who found it untenable to remain in government after the assassination of his friend, Pio Gama Pinto. Murumbi resigned on September 21, 1966. According to Andrew Morton, author of the biography, Moi: The Making of an African Statesman, it was Njonjo who proposed him to Kenyatta. The appointment greatly disappointed Cabinet ministers Mungai and Tom Mboya who were also salivating for the seat. Njonjo believed he could manipulate the law and his connections to become president. Back to the flight to Geneva, Karume explains how he brought Kihika to reality: "Now as we flew over the continent below us, I shattered that assumption. Kihika still would not get it and demanded, 'How would Moi become president? Where would our Kikuyu leaders be if and when this happened?'" This question gave birth to what in 1976 would prove to be a big Gema movement. Karume says he reminded Kihika that there was a small issue of the law and the constitution which was categorical that the vice president would take over as acting president if the president died in office. Upon hearing this, Kihika, who Karume describes as "the worst kind of a Kikuyu chauvinist", became almost hysterical before he hatched the idea which he shared with him. He suggested that they embark on a campaign to scrap the "ridiculous" clause in the constitution to ensure that Moi never became president. The idea was to block Moi from assuming the presidency for 90 days as this would give him an advantage. This advantage is best captured by then Co-operative Minister Paul Ngei when he addressed the first Change the Constitution rally in Nakuru in September 1976. "Let me tell you my people. If my wife Emma and I were to go to State House, and I was acting president for three months, I would never get out for any other person to occupy the seat." To cure this, Karume and Kihika had a perfect plan. "We would campaign both in Parliament and outside to have three different individuals stand in as acting president for those 90 days. The three would be senior civil servants appointed constitutionally. The three would be head of civil service, Parliamentary speaker and chief justice," Karume explains in his book.
Cement himself
Upon their return, they launched the campaign and enlisted the support of other Gema leaders. The first meeting was held in Nakuru where they fired salvos at the Vice President, saying if he was given an opportunity as the constitution provided for then he would cement himself. Other speakers in Nakuru were William Ntimama, John Konchella, Dr Mungai, Taita Towett, James Gichuru and Jackson Angaine. Njonjo had a swift and chilling response, warning in a press conference that those who had addressed the Nakuru meeting would be arrested immediately. According to Njonjo, Karume and his group had committed treason by imagining the death of a sitting president. The AG said the leaders had not only imagined Kenyatta's death but had stated it outrightly by use of loudspeakers. They were now to be arrested and charged in court. If found guilty they were to be hanged for that was the punishment prescribed by the penal code. This sent panic among the Gema top brass who were now staring not at the prospect of propelling one of the own to State House but of being hanged. They had to quickly insulate themselves from treason by rushing to Mzee for help. Kenyatta promised to talk to Njonjo and advised the Gema leaders to lobby Parliament if indeed they wanted to change the constitution. They were however beaten in their own game by the towering minister from Kajiado, Stanely Oloititip, who organised 100 MPs to sign a petition against changing the constitution. Two years later in 1978, Kihika's worst nightmare came when the man he had belittled and humiliated was sworn in as president after Kenyatta's death on August 22.