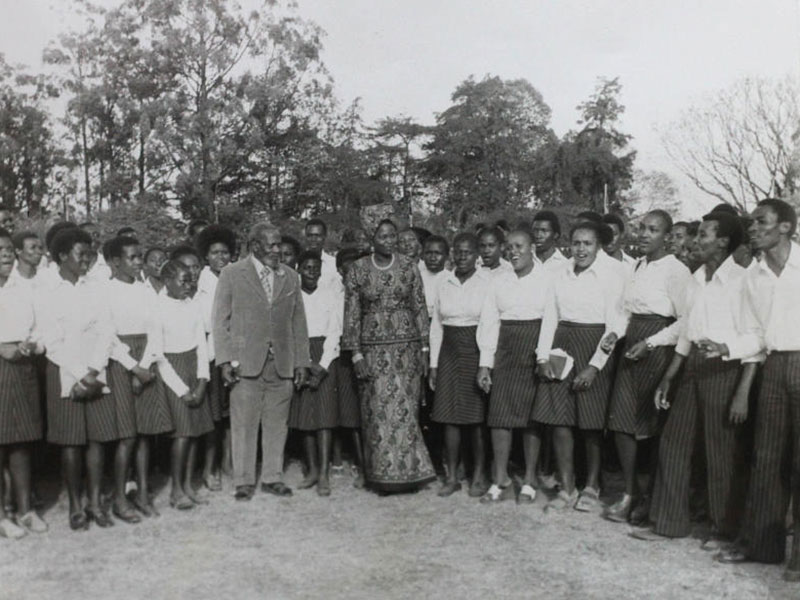 The inimitable Anglican organ melody blasts its way to your heart the moment the stylus makes contact with the epic "Tribute to Mzee Kenyatta" record manufactured for St Stephen's church choir by AIT records. It is a preamble to the track, "Yesu Mpokee Mzee Wetu", somewhat a contradiction of terms given that Mzee Kenyatta was not particularly a renowned Christian. The powerful vocals also serve another purpose -- to transport a listener to what it was all about; death. But it was the second track, "Huzuni, Mzee Ametuacha" that truly spoke to the loss the country had just encountered. No organ, acapella-like except for the triangle, the soprano and the bass did the trick, evoking deep sense of loss. "Kenyatta kiongozi wa Kenya, shujaa wa Africa, milele atakumbukwa," the vocals go with the most alluring part of the song being a presupposition of the old man's final resting place: "Alipo kuna furaha kuna uzima, kuna amani… kuna Yesu."
SEE ALSO: Atheists want ASK Mamboleo Ground named after Achieng Oneko
Mwenyezi Mungu The song is not wholly dedicated to the dead. It also addresses the living in an important period, transition: "Nasisi tuliobaki tuzidi Kujenga Kenya, Kenyatta alitufundisha mwito wake wa Harambee." It signed out on a hopeful note: "Ee Baba Mwenyezi Mungu uwaongoze watu wa Kenya siku zote." If you thought the first song was a contradiction of terms, you had not lent your ears to the third song: "Mzee Alivyoipenda Kenya." The song drew parallels between Jesus' love for the church and Mzee's devotion to his country.
SEE ALSO: Kenyan athletes stranded in India arrive home
"Jinsi Yesu alivyolipenda kanisa la Mungu, hivyo Mzee Kenyatta alivyoipenda nchi yetu Kenya." It speaks to Kenyatta's trials in path for independence and prays for his widow and children. The fourth song, "Kwaheri Mzee wetu" was played live at State House as the Burning Spear lay prostrate before the world, cold. The cantor, most likely Darius Mbela himself, oozed raw pain on behalf of a grieving nation. "Tazama mbele yetu, mmm, mpendwa amelala, mmh kiongozi mshupavu, mmh rais mwenye busara… ni huzuni ni kilio, wananchi wanalia, Kenyatta tunalia, huzuni kwa taifa."
SEE ALSO: How 'Kwekwe' song lyrics are shaping Uhuru's legacy
The fifth song in that side is now a Catholic liturgy classic, "Pokea Moyo Wangu." In the context of the event in 78, the song sounded like a dirge, a funeral song: "Ewe Yesu Mkombozi wangu shinda kwangu nami daima kwako..." The choir, conducted by Mbela assisted by George Masumbuko and Christophen Sikukuu, signed off the album with their own rendition of the national anthem.