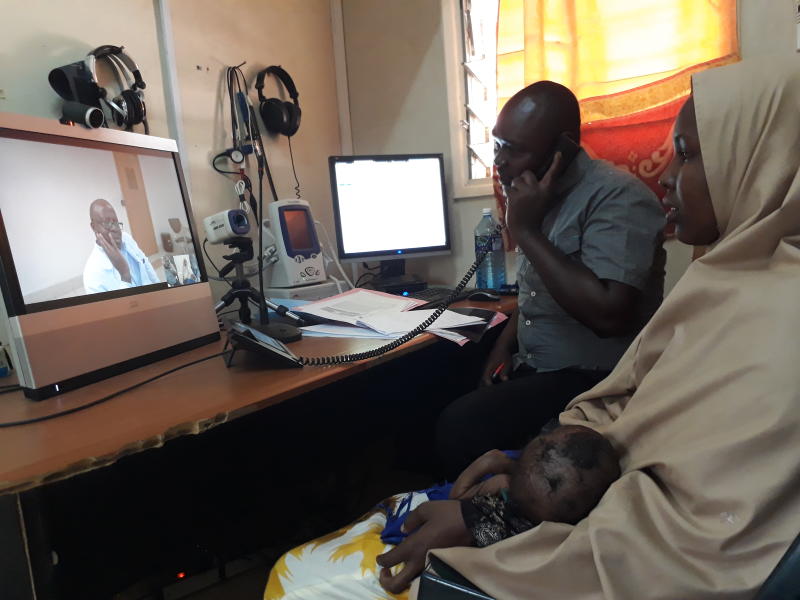 Little Abdirahman Abdi lay in his mother's arms, writhing in pain. He was hungry, but could not eat or hold anything down. According to his mother, Yurub Mohamed, the four-month-old boy had not been breastfeeding well. "He does not have an appetite, I have tried everything possible but he just can't hold any anything down," says Mohamed. After making a number of trips to Daadab sub-county hospital, doctors told her that the boy urgently needed to see a paediatrician.
Vital signs
Luckily, Yurub did not have to take the one-day trip to Nairobi to have Abdi seen by a paediatrician. Thanks to technology, Dr Renson Mukhwana could see him from the comfort of his office at Gertrude's Children's Hospital. Using a set of computers and some accompanying devices, Dr Mukhwana was able to examine Abdi from 414km away. He was able to read the boy's vital signs, including his heartbeat, blood pressure and temperature.
Saving lives
"In the end I am able to treat the patient much in the same way I would treat the one sitting in my office," he says. In the end, Abdi's life was saved at Daadab without having to transfer him to Garissa or Nairobi.
Clinical officers
According to Dr Shuriye, between 100 and 150 outpatients visit the hospital every day. Out of these, between 10 and 20 patients are admitted. Usually patients are first seen by a clinical officer. If the patient's case is complex, the doctor takes up the matter. If he too cannot treat the patient he refers them to Garissa, or, like in Abdi's case, resorts to telemedicine. "With this technology, a specialist in Nairobi can provide much needed treatment for a patient in Garissa," says Dr Shuriye Abdi had another appointment with Dr Mukhwana a week later. He is among the first Kenyans to be treated by a specialist through telemedicine.