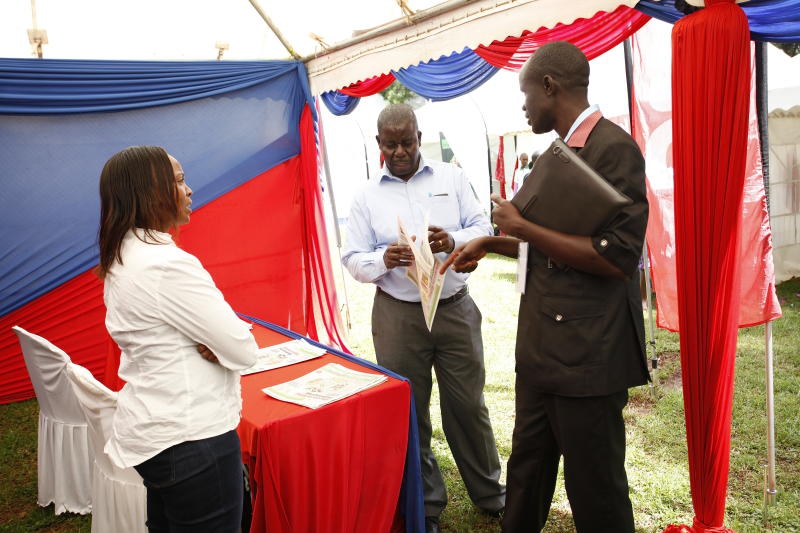 The Standard
From the young to the old, farmers flocked the Kalro headquarters to learn what digital farming is all about
"Na Digital farmer ni nini?"
(But what is a Digital farmer?) that is the question one Mzee Abdi Mohamed asked an attendant at one of the stands during the just-concluded East Africa Digital Farmers conference. Apparently, Mzee Abdi had come from a nondescript village in Msambweni, Kwale County to find a market for his watermelons. That issue had given him sleepless nights and he wanted solutions. As he faithfully moved from stand to stand armed with brochures, what he kept hearing over and over again from high-profile State actors, delegates and researchers 'is digital this digital that'. But he was clueless.
Excited delegates
It was crystal clear mzee did not want to hear mumbo jumbo; he just wanted a market for the four tonnes of watermelons in his shamba. Though Mzee Abdi may not have understood what digital farming was, the conference was the right place to be. Like Abdi, thousands of farmers start the farming voyage with the eagerness of a new lover but due naïvety and cluelessness of a toddler, and with that blind mix, they trip from one blunder to another. Enter the digital farmer, the smart modern day agriprenuer who uses digital tools like apps, GPS systems, sensors to get farming intelligence that informs their actions and decisions. At the three-day conference at Kenya Agricultural and Livestock Research Organisation (KALRO), such gadgets were in plenty.
Here are the limelights:
Picture this, you have a smart pond that is connected to sensors and special cameras that relay to you information in real time how your fish are doing. Through the sensors you get data on the water temperature and if it is too cold or unfavourable for the growth and survival of the fish, and get to adjust it accordingly. According to Simon Ndarao the data scientist at Upande Ltd, the fish farmer's app — Samaki.ke — offers an array of possibilities. "This app can do wonders. Once it is installed, a farmer can monitor the growth curve, whether they are making profits or losses. It makes record keeping easy," he explains.
With it, a farmer increases their efficiency and in turn makes more income. Interested farmers can call Upande team on 0713 234798.
What do you do when you have endless acres of land under crop and you need to monitor what is going on the farms, yet you do not want to spend extra cash on labourers. Simple. You get a drone. Indeed, drones are what introduces precision to farming. "Look, with this drone, you are able to take pictures of your crops across swathes of your farm and they are able to spot when a problem is starting. For instance, when your maize is under attack by some vicious pest, the drones will be able to pick the problem in the early stages." Drone technology use in Kenya was recently legalised by the Kenya Civil Aviation Authority. And though getting authorisation is a long process, Ndarao says it is worth the effort. Ask any veteran poultry keeper and they will confirm for you that one of the hardest nuts to crack is brooding. That stage in chicken life is so critical owing to the fact that factors like temperature, light and humidity, which must be kept at certain level for survival of the birds. Get it wrong and your profits will fly away. Enter the Digital SmartBrooder, a brain child of Engineer George Chege. Chege explains that the smart brooder is an environmentally controlled device, which ensures the conditions in the brooding space is kept within optimum levels, thus leading to improved yields. "The mortality rates during that stage is very high. Many farmers struggle to keep the conditions optimum but they fail leading to death of the chicks. But with this technology, everything is automatically controlled and monitored. So when the temps and humidity goes beyond optimum, a signal is sent and the farmer is notified in good time to make adjustments," Chege explains.
How it works
A few sensors — 3 or 5 — take readings throughout the brooding space and relay the data to a small analogue computer which is programmed to determine the age of the chicks and regulates the conditions in the brooder accordingly. GMS is used to convey data to the farmer and one can expect an SMS if something is wrong. Its unique features include real time SMS updates of progress of the chicks, real time monitoring of the temperature, automatic temperature control based on the age of the chicken etc. The icing on the cake is the vaccination programme reminder.
For more details, contact Arinifu team on 0711 590926.
Refilling and drinkers and feeders can be a tedious, time waiting and energy sapping affair especially if you have a brood of chicken that are water and feed guzzlers. But the Digital bell drinkers feeders/drinkers solve this headache. Wired with unique gadgets that connect the drinkers and nipples in a seamless way, wastage is controlled and the birds are able to feed is a controlled manner. A brainchild of Engokho Kuku Farmer, it seeks to bring efficiency and productivity in poultry production. For more details on this contact the proprietors at 0727 474045.
Fruit fly technologies
These innocent dudus called fruit flies are responsible for huge economic losses in agriculture, causing severe damage to farm fruit, vegetables and flower farms on a global scale. To counter that problem, Farm Track has developed effective tools to offer farmers a simple, affordable and easy to use technologies. The traps include Fall army worm lure, Tutalure and Delta Trap, baits for Tuta Absoluta, the destructive tomato pest. The traps also capture cotton Bollywood, African cotton leaf worm among others. For more details call Farm Track Consulting on 0711495522.
Other sizzling stuff
Other fascinating digital technologies that were showcased include Agri tech, Eprod, Farmtrack, Yielder, a reliable agri information platform among others. Thanks to the conference organised by the Standard Group in partnership with Kalro and Smart Farmer Magazine, Mzee Abdi left a happy man because he was introduced to Selina Wamucii, an app that can link him with buyers for his watermelons. That indeed is what digital farming is all about.
[email protected]