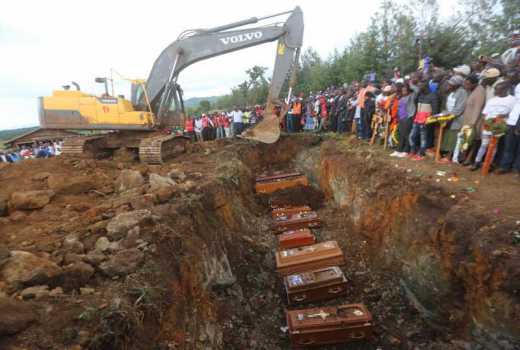 A multi-agency report released by the Ministry of Interior and Co-ordination of National Government has revealed that the location of Patel Dam contributed highly to the tragedy that left 47 people dead.
The report released by the ministry yesterday revealed that the affected persons were badly exposed to the danger of the dam bursting.
Even with proper design and maintenance, and approval by statutory authorities, natural calamities are likely to occur in future thereby endangering the safety of the whole Solai community, the report said.
It further stated that although prevailing heavy rains had been blamed for the disaster, there was clear evidence that the dam's earth wall had started failing much earlier.
No attempt
However, no attempt was made to rectify the situation, especially during intervals of dry weather.
Victims of the disaster told The Standard in previous interviews that the dam started leaking in 2016.
John Mwangi, the victims' spokesman, said locals had notified leaders including chiefs, their assistants and political leaders, but not much was done.
Preliminary observations further showed that the dam breached at a section that could define the original water course.
The Water Resources Management Authority (WRMA) and National Water Conservation and Pipeline Corporation (NWCPC) have also been tasked to investigate the cause of dam failure besides establishing whether the dam had been legalised for construction.
Officers from NWCPC and WRMA have also been directed to visit the dam site to make final observations that should include field tests on materials used during construction to confirm their suitability.
The same investigations are to be done on six dams located on Patel Farm and all dams in Kenya in efforts to prevent similar disasters in future.