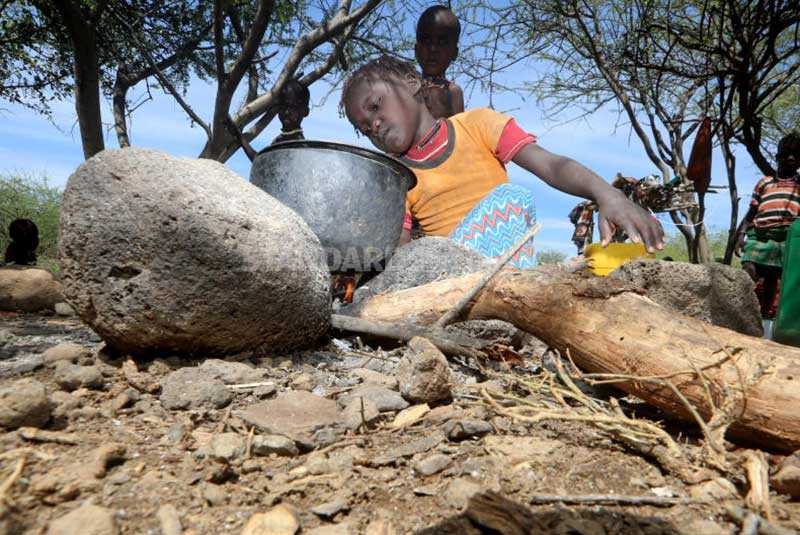 Kapedo town, located on the boundary of Baringo and Turkana counties, has known no peace as tensions flare among communities.
There is uneasy calm along an eight-kilometre road named the 'valley of death' that meanders through rough terrain.
The thickets and unforgiving terrain make the place unpredictable, daring only the brave to set foot there. The bleating of sheep and goats is no more.
Last month, six people were killed in two separate attacks in the area that has seen recurring clashes between two communities.
Suspected bandits
In the first incident, three students and a driver were killed when suspected bandits ambushed their vehicle just four kilometres from a Kenya Defence Force camp.
"If you're faint-hearted just keep off the stretch. Remember you are being watched," said a source.
Any attempt to cross a bridge connecting Ameyan and Kapedo is inviting death as a group of armed youth operating from the bush are said to have vowed to target civilian vehicles.
Most shops have no stocks and have closed down. Restocking is a problem as residents' movement is restricted due to insecurity.
A resident who spoke to The Standard on condition of anonymity said efforts to get armed escort from security personnel to nearby shopping centres have failed.
The officers allegedly declined to help after members of one of the two warring communities declared war on any vehicle carrying any person from their rivals' group.
"They declined to escort us as they used to and instead instructed us to go apologise to the community before they could help," claimed the source.
Francis Lopalal, a trader, said food has run out and he could not restock.
Mr Lopalal said the bandits had refused to allow even Kenya Red Cross Society vehicles into the area to offer humanitarian assistance to the affected families. He said nobody had been able to travel to Marigat in the past three months.
"We can't buy food even if we had money. We have nothing and can't even buy vegetables. We will soon die of hunger," he said.
Benjamin Akol said the residents were living in fear and were running out of basic commodities, mostly food.
Mr Akol said the warning by the bandits to security personnel not to assist members of rival communities had made things worse.
The Standard team that visited the area noticed that some homes were deserted.
Residents said they had been relying on police vehicles as there was no public transport.
"How safe are we if the bandits can warn armed police officers and even shoot at their vehicles?" asked Lopalal
Last week, two police reservists were killed and their firearms stolen during an early morning attack at Kapedo Catholic Church. The two had been hired to provide security during a Mass at the church.
Kapedo town is located on 18 acres. General Service Unit and Administration Police officers, as well as police reservists, are stationed there.