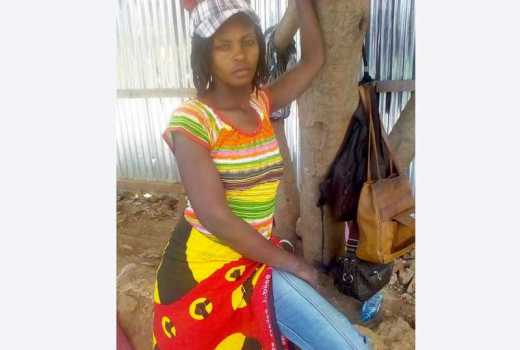 Kenya
As dark grey clouds hang over Kiambu's Marurui town, a cheerful two-year-old girl in a brown sweater and blue trousers pranced...
As dark grey clouds hang over Kiambu's Marurui town yesterday morning, a cheerful two-year-old girl in a brown sweater and blue trousers pranced jovially outside her home. She smiled as her small feet imprinted into the light mud, and happily nibbled on a hard brown bun. Perhaps the toddler still held memories of her loving father coming home on Sunday night with a packet of fries for his little princess. To the little girl, life could not be any happier. However, in a way that surpasses the understanding of her underdeveloped young mind, everything is not fine, and the upsetting occurrences of early Monday morning have tragically changed her life forever. On Sunday night, when the father she has sweet memories of came home and brought her treat, he also killed her mother and three siblings.
SEE ALSO: Mindless killings by police over curfew must come to end now
Four children
Ann Gathoni, the young girl's mother, lived with her four children in a tiny, low-income single room brick house in Marurui town, Kiambu County. According to police, her lover, who relatives only know as Maina, killed the 33-year-old Gathoni and her three children at around 2am Monday. "One of the children's teachers visited the home on Monday morning to find out why the child missed school. The teacher found the door open, and when she knocked, the two-year-old girl opened the door, telling her (the teacher) that her mother was still asleep," says Gathoni's younger sister, Nancy Wangari. Wangari says when the teacher entered the house to check, she found the mother and her three other children dead. The girl told the teacher her father came home the previous night and offered her fries.
SEE ALSO: Nairobians join in protests against police brutality
Those who saw the bodies let on gruesome and troubling revelations. According to some witnesses, Gathoni lay on one of the two beds in the room, with her face facing down. Her children, Dmitry Kibe (five), and eight-year-old Peris Mumbi, lay on their backs on the other bed. They were foaming at the mouths. Even more painful and disturbing is the manner in which Gathoni's 13-year-old daughter Mary Wairimu died. "She was kneeling on the floor, and her hands had been tied behind her back with a rope. Her face was facing sideways," said a neighbour, who sought anonymity. According to police reports, the girl, a candidate at Karem Primary School in Marurui, was raped before her murder. Police suspect that Maina, her mother's lover, was the rapist. Ms Wangari speaks with a heavy heart. While she appears strong and talks about her sister openly, she casts her face down from time to time and wipes tears from the edges of her eyes with the palms of her hands. "I do not know why he would do something like this," she says. Wangari says the late Gathoni has another daughter aged 18, and who had not been living with them at the time of the murder. She is the result of Gathoni's first marriage in Dandora, Nairobi, which only lasted five years. After her first marriage, Gathoni is said to have gotten her three (now slain) children, Mary, Dmitry and Peris, with other men.
SEE ALSO: Calls for justice as father, sons buried
According to Wangari, it was not until five years ago that Gathoni met Maina, who fathered the two-year-old girl that survived the killings. At the moment, little is known about Maina. But Wangari says that Maina lived with Gathoni for a short time before they broke up. Afterwards, Wangari sais, they had an on-and-off relationship, though they did not live together again. "He often came here from time to time, but we did not bother to know more about him," says Pastor Ibrahim Mbugua, who lives on the property next to where Gathoni lived. Both Mbugua and Wangari admit that Maina and Gathoni had a strained relationship. Wangari says her sister often told her about their fights, but without expounding. Wangari says she never bothered to ask Gathoni why they always fought. "I tried to advise her some time ago, but I did not insist because I felt I would be intruding," Mbugua notes, a tinge of regret colouring his voice. Dressed in a white patterned polo shirt, faded khaki trousers and brown suede shoes, Joe Mburu paces weakly and anxiously across the muddy, rain-soaked corridor outside Gathoni's house. Holding his chin with his right hand, he slowly lifts his face to reveal his brown-red blood-shot eyes and as he talks, it becomes evident that he has been sobered by reality.
SEE ALSO: Two children killed, pregnant woman shot in police raid
"I was with Musoo at the bar last night, and she was jovial as usual. I remember hearing some patrons saying that one of her tenants had just paid her Sh3,000, so she had money to spend," Mburu narrates, referring to Gathoni as "Musoo", just like the other patrons at the bar in Marurui often did.
Good woman
He pauses to catch his breath and continues; "Musoo was a very good woman. She was hardworking and independent. She always made sure she provided for her children and usually bought her own drinks". Other people who knew Gathoni back up Mburu's assertions, portraying Gathoni as a hardworking woman who sacrificed everything to ensure she gave her children a comfortable life. Mburu says after drinking, Gathoni left the bar for home at around 11pm. She was alone. Mbugua, on the other hand, says that at 1.13am Monday, he heard a motorcycle approaching the compound where Gathoni lived, prompting him to get up and switch on the lights. "It is not unusual, but when I hear any noise I have to check because of the security of my home," says Mbugua.