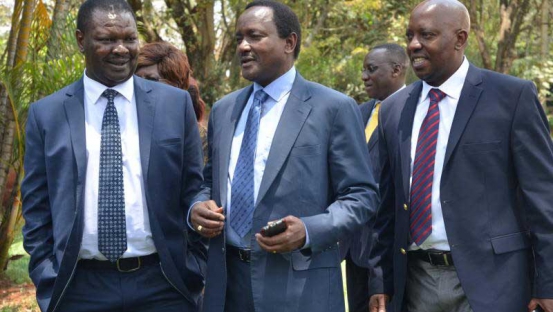 Kenya
On several occasions, Kalonzo came to the defence of Nyenze much to the chagrin of the MP's critics
Kitui West MP Francis Nyenze, who died Wednesday at Nairobi Hospital, went against the Wiper grain but party leader Kalonzo Musyoka had a soft spot for him. In the last general elections Nyenze supported Jubilee NASA presidential candidate Uhuru Kenyatta to earn the "mole" tag by his detractors. Just before the August 8 election date, Nyenze addressed a gathering at Kauwi grounds in his constituency where he openly praised President Uhuru Kenyatta and the Jubilee administration for what he described as "stellar performance." In Kikamba, Nyenze urged the Kamba community to recognise and reward the good deeds of Jubilee administration, comments that were instantly and roundly criticised by local opposition politicians and their supporters.
SEE ALSO: Uhuru recognises three women who were cooking for officers at roadblock
It was not long before he faced the wrath of Kitui residents, most of whom thought he was undermining his party leader Kalonzo Musyoka. Curiously however, Kalonzo seemed to have a soft spot for Nyenze even when his comments rattled the party top brass. On several occasions, Kalonzo came to the defence of Nyenze much to the chagrin of his critics. At one time during a leaders' meeting at Mwingi Cottages Hotel, a furious Kalonzo interjected when leaders jeered Nyenze and demanded that he apologises for his unpopular conduct. Some demanded that the party leader takes disciplinary action against the former minority leader for "going against the community's interests." Kalonzo, who was seated next to Nyenze, jerked up and thundered: "I have clearly said that I have no problem with Nyenze. He has told me he regrets some of his comments and has promised not to waver again. This should settle the matter once and for all, if you cannot listen to me then I have no business being your leader," fumed Kalonzo as those who had called for Nyenze's ouster retreated.
SEE ALSO: Nairobi's new cycle lanes, walkways prompt 'Uhuru and Raila' night visit
With too much political heat bearing on him, the soft spoken Nyenze excused himself and left the charged meeting before it ended. A section of Kitui West constituents however believe that Nyenze was a selfless leader who has left a huge gap in the constituency. "Nyenze was a grassroots leader who effortlessly interacted with all people. It is a great loss for us and I can tell you his shoes are too big for anybody else to fit in," noted Rodgers Kaleve, a businessman based at Kabati market. Kitui senator Enock Wambua described the late Nyenze as an accommodative leader. In a message of condolence delivered by Wiper party Executive Director Jared Sisso, Kalonzo, who is in Germany, described Nyenze as a non-confrontational gentleman who was a great asset in Wiper party who helped build bridges among political protagonists.