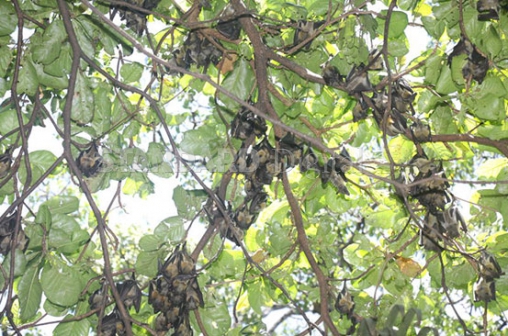 A colony of an estimated 3,000 bats has invaded Mombasa's Uhuru Garden that is adjacent to the famous prototype tusks along Moi Avenue. The National Museums of Kenya (NMK), which owns the facility, said the number of bats had increased in the last five years. "We do not have a solution to this problem. Locals want them removed but that is actually the work of Kenya Wildlife Service," said NMK assistant director in charge of Coast region Athuman Hussein. Locals claim the bats are a sign of a bad omen and want them removed.
SEE ALSO: Raila is in good health says Junet
Main attraction Those interviewed associated bats with witchcraft and sorcery but officials of the garden said the creatures were a main attraction for foreign tourists. Every day, foreign tourists watch the bats fly out of the garden at 6.30pm. They return at 5am the next day. Hassan Yawa, the supervisor of Chenda Investment that maintains the garden, said foreign tourists thronged the area mostly on Mondays to watch the bats. "It is a big conflict between the locals and foreign tourists who visit this place. While locals stone them, foreigners marvel and enjoy watching them," said Mr Yawa.
SEE ALSO: Officials explore home-based care for Covid-19 patients in Mombasa
He said foreign guests take pictures of the flying creatures as others record the bats chirping.