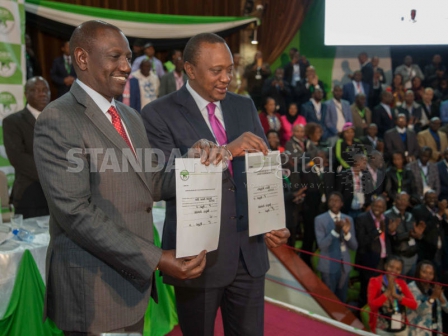 President Uhuru Kenyatta will be sworn in for his second and last term in office on August 29 if his victory is not challenged in the Supreme Court. According to the law, the President-elect and his deputy are to be inaugurated 14 days after the first Tuesday following the declaration of the presidential vote if no petition is filed. This means that Uhuru and his deputy William Ruto will take oath of office in the presence of Chief Justice David Maraga on August 29, barring a court petition. According to Garissa Town MP Aden Duale, the National Assembly and the Senate will be convened by August 22 for the swearing-in of MPs, election of Speaker and deputy speakers and also constitution of committees of the Houses.
SEE ALSO: Uhuru's tough balancing act as Jubilee, new allies demand key House seats
NEW CABINET
"The MPs and senators will be gazetted latest Tuesday ," said Duale, adding that Uhuru will thereafter be at liberty to name a new Cabinet. He added: "Once that House is ready, the President can reconstitute his Cabinet and send names to Parliament for vetting and approval. This time, we don't have any fears of delaying the exercise since we have a super majority in both Houses. We can even amend the Constitution." But should any election petition be filed at the Supreme Court, then Uhuru and Ruto will have to wait a little bit longer to be sworn in, as happened in 2013 when CORD filed a petition against Uhuru's election, whch the Supreme Court threw out. Although NASA has reiterated several times it will not challenge the verdict in court, the law grants any citizen the right to file a petition to challenge the results.
SEE ALSO: To open or not is no issue, health and economy are
If that happens and the Supreme Court upholds the election, then the inauguration will take place in mid-September. This is because anybody intending to challenge the results has seven days from last Friday to do so, making this Friday the deadline. If that is done, then the Supreme Court will have to give its verdict within 14 days; which takes this to September 1. If the victory is confirmed by the seven-bench Supreme Court, the duo will take oath on September 12, being the first Tuesday following the seventh day after the court ruling. Uhuru and Ruto will then embark on reconstituting the Cabinet and Government in general, with reports that some Cabinet secretaries will be dropped. It is expected Uhuru will be seeking to cement his legacy in appointing the Cabinet while DP Ruto will be keen on a team that can deliver and is attuned to his 2002 uhuru succession. "There is a Government in place and it's the prerogative of the President to hire or fire. Until the President is sworn in, the current Cabinet will continue work. After inauguration, he (President) may decide that this government should continue or re-organise it," Jubilee vice chairman David Murathe said when asked what next after the polls victory.
SEE ALSO: MP urges Uhuru to drop 'lazy ministers' in looming Cabinet reshuffle
A source close to Ruto, however, intimated close to half of the Cabinet will be fired as the DP will be looking at 2022 when naming Cabinet secretaries and bosses of parastals and other state offices. But political analyst Elias Mokua argues that given the cohesive nature of the current Cabinet, Uhuru and Ruto may go for minimal changes, adding that should they go for reconstitution, then it would be massive. State House Spokesman Manoah Esipisu said it was time for all of Kenyans to move forward in nation building activities aimed at achieving prosperity and development for the country following the end of electioneering. "But, as the President has made clear, there is work to be done. In the next five years, he intends to make sure every Kenyan — young men and women, in particular — feel the full effect of our progress," Esipisu said.