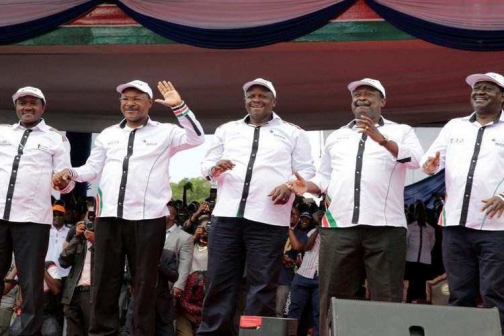 The Opposition coalition has insisted it will only accept election results as announced at the polling stations.
The National Super Alliance (NASA) Thursday warned the Independent Electoral and Boundaries Commission (IEBC) that they will reject any results other than those declared at the 41,000 gazetted polling stations countrywide.
Addressing a press briefing at Orange House, ODM Director of Elections Junet Mohammed said the coalition was committed to protecting its votes against any rigging.
Mr Mohammed said the coalition had set up a five-member committee for each polling station, with clear instructions to relay results once they are announced by presiding officers.
The MP said they do not expect the IEBC to have different set of results from those declared on the ground.
He said it is the results at the polling stations that will be collated, tabulated and announced at the constituency level.
The five-member team, he said, will also help the coalition in stopping "dead voters" from casting ballot in the August 8 General Election.
"NASA has committed to protect it votes. We are extremely serious about this. We will not allow dead voters to rise and cast the ballot for Uhuru Kenyatta. We will not allow IEBC to announce two sets of results for the same presidential candidate," said Mohammed.
The coalition has further maintained that it will run a parallel tallying system to prevent any "monkey business" in the polls that would be the most bruising and probably the last between Raila Odinga and President Kenyatta."We will have the parallel tallying system for our own consumption. The Constitution is clear that votes announced at the polling stations are final and will be collated and tabulated at the constituency by the returning officers," he added.