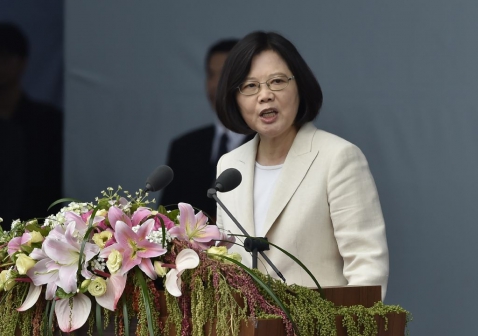 Taiwan's new President Tsai Ing-wen speaks at her inauguration ceremony in Taipei on May 20, 2016
Beijing - Official mainland Chinese news outlets largely snubbed the inauguration of Taiwan's Beijing-sceptic new president Tsai Ing-wen on Friday, while searches for her name and "Taiwan" were blocked on social media.
Taiwan's first female president, who is head of the traditionally pro-independence Democratic Progressive Party (DPP), took the oath of office Friday morning at the presidential palace in Taipei, signalling the end of an eight-year rapprochement with China.
China and Taiwan split in 1949 after the Kuomintang nationalist forces lost a civil war to the Communists. But Beijing has always seen the island as a renegade province awaiting reunification, by force if necessary.
China's state-run media were almost mute about the inauguration, with no coverage at all on national television or major newspapers such as the People's Daily, the Communist Party's mouthpiece.
The official news agency Xinhua took nearly three hours from when she was sworn in to report the fact in a 22-word dispatch in English.
For several hours searches for "Taiwan" or "Tsai Ing-wen" on China's Twitter-like Sina Weibo both returned the message: "Sorry, no relevant result is found", although the new leader's name was later unblocked.
In an editorial, the Global Times -- a newspaper owned by the People's Daily group that often takes a nationalistic tone -- said Tsai's assumption of power heralded "a new era for a cross-Straits region that is characterised by uncertainty".
DPP rule will make Taiwan "take a larger step away from the mainland politically", it said.
"Certain people are still holding on to the fantasy that 'soft independence' might be workable," it added. "Perhaps a new round of contention is inevitable to completely drive the topic of Taiwan independence away."
Beijing has been sending assertive messages across the Taiwan Strait since Tsai was elected in January.
It has warned against any attempt to formally declare independence and the Chinese military has mounted at least three landing exercises in the country's southeast this month -- widely seen as a threat to Tsai not to rock the boat.