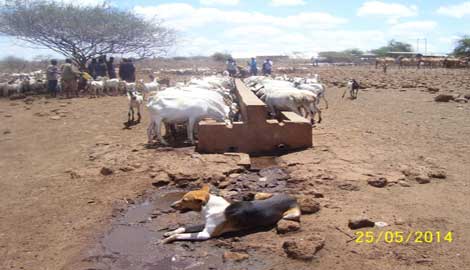 A guard dog keeps watch as his owner's goat enjoy a sip at a community borehore at Qubi Gallo village near Marsabit town
It was supposed to be one of the biggest reservoirs in this parched part of the country. But all there is to show for the Badasa Dam project is a large uncompleted earthen embankment in Marsabit Forest.
There is also an unfinished concrete tower with the steel scaffolding still up, and scattered in the area are old tyres, rotting hardware and abandoned pieces of reinforcement steel that would bring pure joy to the face of a scrap metal dealer.
Some 17km outside Marsabit Town in Saku Constituency, past the edge of the forest, the dried up dreams of Badasa paint a bleak picture. The fact that rainfall has been scare and Marsabit County is facing the possibility of yet another drought makes the abandoned project all the more saddening.
Three kilometres away, on the newly-gravelled Marsabit-Badasa road, at a place called Dhita Arba (meaning 'elephant-stamped pan'), the thirst of Marsabit residents is accentuated by the trickle of water from the pipe of a village water project that feeds a communal watering point.
"The elephants loved this place because of the water from the pipe, so they stomped it down and made a pan," says Yusuf Boru, who has driven his six cows and about 40 goats for 20km to quench their thirst.
Elsewhere, loud disagreements punctuate the fortnightly water fetching rounds at one of Marsabit water points. Here, women take up to eight hours to get their rations of five 20-litre jerricans that will serve their families for two weeks.
"When you exhaust what you have fetched, you have no option but to buy a 20-litre jerrican of water at Sh50 from private bowsers," says Asha Bika.
Mohamed Galgalo and Abdul Khamis Sharrif are among the few men in a gaggle of womenfolk queuing for the water. Sharrif says he is disappointed that the county government appears to be paying more attention to levelling roads than supplying water. They are convinced that only a large reservoir like Badasa could save the town from perennial water shortages.
Sora Jillo, the chief officer for water in Marsabit, says it is unfortunate that the town and surrounding areas remain thirsty, even as the public resources used at the Badasa site go to waste.
Marsabit's county government is building Bakuli Four Dam at a cost of Sh600 million to serve Marsabit Town. The current source (Bakuli Three) is so small that residents get only five 20-litre jerricans fortnightly at Sh2 each.
Most of the town residents are unhappy with the current ration, saying it is barely enough, but Jillo and County Secretary Umuro Godana point out that is already a significant improvement from the same ration every two months in the past.
"Our current source is too small, hence the need for Bakuli Four," says Jillo. "I wish they had put the money used at Badasa into Bakuli Four."
The National Water Conservation and Pipeline Corporation (NWCPC) conceived Badasa alongside Maruba, Kiserian, Umaa, and Chemususu dams in 2007 to increase Kenya's water storage capacity by 21 million cubic metres and provide potable water to 1.089 million people.
Maruba, Kiserian and Chemususu were completed, though a water supply expert says they all have considerable design and technical flaws. Umaa Dam in Kitui, the NWCPC says in its website, is 69 per cent complete while Badasa is 71 per cent complete. The corporation fell out with the contractor over contract variation and the matter is in court.
Marsabit residents and the water supply expert we spoke to say the major problem with the stalled dam is its location on Buji River within Mount Marsabit Forest Reserve.
"Residents reported they have not seen substantial water flow for a long time on the seasonal river, even during El Nino," says Jillo. "We hope the project will not end up being the white elephant it is feared to be."
The water expert, who asked not to be named, traces the problem to flawed design and corruption. He says while Kenya is suffering from an acute shortage of reputable dam design experts, haphazard contracting has seen problems impede works on the five proposed dams.
"Designing a dam is not just about placing it on a river or a valley," says the expert. "There would have been no problem at Badasa had somebody thought clearly about the project."
He cites Kiserian Dam in Kajiado North Consituency, Kajiado County, as facing a major risk of being rendered irrelevant since it is placed downstream of a sprawling new settlement area without planned sewerage.
Unplanned settlement
The unplanned settlement areas in the water catchment are Ngong Town, Ongata Rongai and Kiserian centre. These peri-urban settlements lack a proper sewerage system, so sewage from the residential areas can flow into the dam downstream.
This, he says, might lead to the replication of the story of Nairobi dam if correctional steps are not taken now.
Sewage from upstream settlements such as Kibera and Langata have polluted Nairobi Dam, rendering it unsuitable for water supply or even yatching and the other water sports it was initially planned for.
The NWCPC statement of intent says Badasa Dam was to supply water to Marsabit Town in then Marsabit District (now county), of the former Eastern Province.
It was projected to have an embankment 52 metres high, and water was to be pumped 9.7km to Marsabit Town after treatment, with a booster station in between.
An Auditor General's report covering 2000-2011 revealed that Sh6.1 billion had been factored in the budget for construction works at Maruba, Kiserian, Umaa, Badasa and Chemususu dams. At Chemususu Dam in Koibatek and Badasa Dam in Marsabit, the contract price had shot up by about Sh1.6 million without justification.
Technical challenges
"No plausible reasons have been provided for the very significant variation between the tender price and the engineers' estimate," the report stated.
Owing to lack of feasibility studies the Auditor General reported that construction works at the dams had encountered design and technical challenges, possibly dragging the completion date. The result was as he had predicted in Badasa's case.
Runji and Partners, Consulting Engineers Ltd was awarded the contract to undertake design review and construction supervision of Badasa Dam by NWCPC on December 18, 2008.
Midroc Water Drilling Company was awarded the tender to construct the dam on March 20, 2008. The contract agreement was signed on January 23, 2009 and construction was expected to be completed by August 2011 (in 30 months).
There was to be a 12 months' defects liability period and the total cost was Sh2.4 billion. The case in court is between NWCPC and Midroc Company.