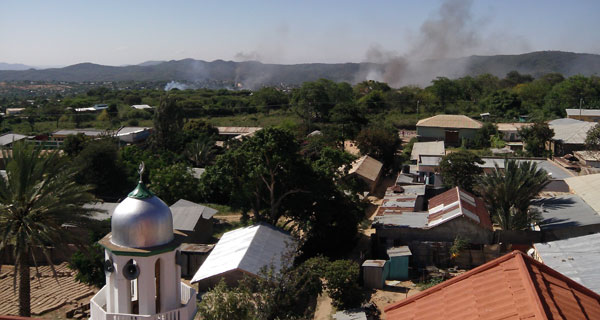 Moyale clashes PHOTO:COURTESY
By PAUL WAFULA
Moyale North Eastern: Hundreds of armed militia are torching Butiye village in Moyale town having killed at least 17 more people in the outskirts of the border town in the past 36 hours, as the militia seemed undeterred by arrival of security reinforcement.
This brings the death toll from the ethnic clashes in the past one week in the town alone to 27.
It is the eleventh straight day that the fighting has cut off the town from the rest of Kenya, leaving hundreds of travelers stranded. It is feared that the house of a county representative is among those torched this morning.
On Friday, 15 people were killed and two others have been reported shot dead this morning in the brutal fight between the Borana on one side and a combined force of the Burji and the Gabra on the other side. Already, more than 800 households have been displaced.
Early Saturday morning an unknown number of houses believed to be of the Borana community have been torched as the fight advances to the neighbouring Sessi village.
A cloud of smoke could still be seen at 10AM this morning after the dawn attack. Heavy exchange of fire started at 6AM and is still underway. Military choppers have been flying over the town, but this has not helped slow down the gunfire. The militia are said to be wearing jungle green uniforms and are using guerrilla tactics, slowing down the police who are still strategizing on how to lay their ambush. But locals believe that the police have given the militia time to fight out until they run out of bullets and other supplies before they engage.
Residents of Moyale are fleeing to neighbouring Ethiopia as the fight escalates. Dwellers are trapped and cannot leave Moyale for Nairobi.
Local police refused to escort vehicles leaving town on grounds that they could not guarantee security to passengers given the sporadic attacks.