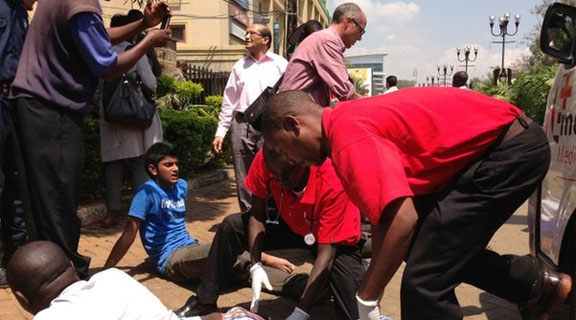 Emergency medical staff treated some of the wounded near the building's entrance. [Photo: BBC]
By Cyrus Ombati
NAIROBI; KENYA: At least 22 people are feared to have died and 50 injured at the Westgate Shopping Mall terror attack Westlands, Nairobi.
The incident that occurred on Saturday afternoon when police and gunmen exchanged fire.
Nairobi police chief Benson Kibue said this was a terrorist attack and that there are likely no more than 10 terrorists involved, as gunfire continues to be exchanged.
Security officers have cordoned off the area and advised the public to keep off.
Inspector General of Police David Kimaiyo is at the scene and leading the operation to rescue people holed up at the mall. He is set to issue a statement on the happenings at Westgate Mall.
The Interior ministry says they have dispatched air surveillance and have confirmed that the gunmen were armed criminals.
According to BBC, police officers arrived about a half an hour after about five armed assailants stormed the building.
Dutch embassy employee Rob Vandijk told AP that he had been eating at a restaurant in the centre when gunmen threw hand grenades inside the building.
Kenya Police reports that evacuation at the mall is underway and a few hostages have been rescued.