Tangatanga, Kieleweke political groups should be disbanded urgently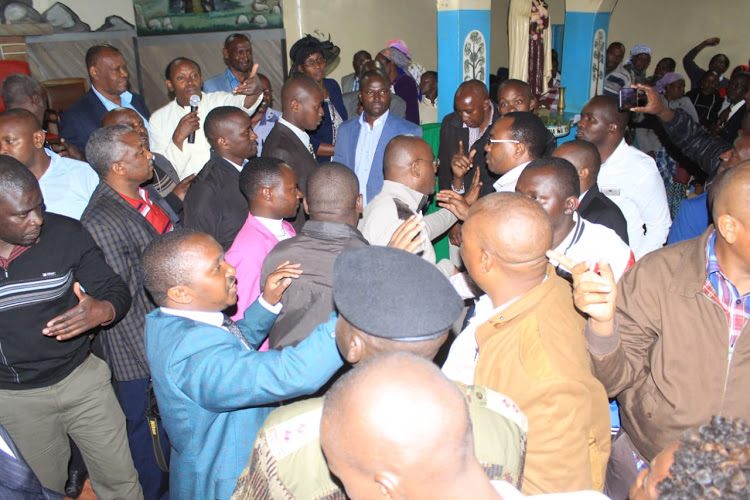 Though not for anything progressive, the acronym Mafia is a global household name. By the 19th century in Sicily, Italy, and in the USA, the Mafia had become an assortment of violent criminal gangs that not only terrorised law abiding citizens (especially those who indulged in retail and real estate businesses), but government officials and law enforcement officers as well.
The gangs organised themselves and operated in small clans that always sought to undermine each other in their quest for supremacy. The gangs survived on covert extortion, heists, prostitution and drug peddling on a massive scale.
That is largely what we know about the mafia today, but it started as a non-criminal band of individuals (nationalists, perhaps) opposed to the French takeover of the Island of Sicily in 1282.
Mafia stands for 'Morte Alla Franca Italia Anela' which, loosely translated, means 'death to the French'. It was initially a rallying call to all those who resisted centralised authority. Kenya has, on a mild scale, witnessed such resistance in the emergence of the criminal Mungiki, Musumbiji and Mombasa Republican Army gangs that exhibited disdain for government.
Of these gangs, Mungiki was the most violent until it was suppressed by a government onslaught about two decades ago. But to imagine the gang was vanquished is foolhardy, and that is because current political circumstances could, inadvertently, be preparing ground for a full scale re-emergence of Mungiki and other criminal groupings.
Political adventurists
A political pact gone awry within Jubilee, worsened by the March 9, 2018 handshake between powerful erstwhile opponents Uhuru Kenyatta and Raila Odinga led to the emergence of the Tangatanga and Kieleweke political groupings.
In this column and on a different forum, I have referred to these groups as gangs, and for good reason; they are an assortment of political adventurists with nary an original, progressive idea. In church and political rallies where they constantly meet to propagate their vacuous political ideals, they were bound to get physical at some point.
A church function in Murang'a became that ground early this week. For a long time, there have been exhortations to church leaders to lock scheming politicians out of churches, but the allure of large sums of money overrode caution and common sense.
Now that the church has been desecrated, and this is only the beginning, to perfunctorily ban politicians from the church is tantamount to locking the stable door after the horse has bolted. The church has not only betrayed its devout adherents; it has acted against the teachings of Jesus Christ.
I could be wrong, but Tangatanga and Kieleweke are unregistered, therefore illegal groups being given legitimacy by politicians in the pursuit of selfish interests. We know, or can make conjectures whose interests these groups are pushing and to which end. Everywhere these gangs have visited, they have sown seeds of discord.
Insincere calls
They pursue divisive, tribal based politics that play into the 2008 admonition by South Africa Judge Johan Krieglar that unless we get our politics right, the 2008 post-election violence will, in future elections, look like it was a picnic.
Let's not be duped by the semblance of tranquillity that the handshake bestowed on us; it could turn out that it was just a lull before a mega storm unless these gangs roaming the country peddling political lies and mischief are disbanded now.
Leaders cannot bombard us with insincere calls to unity when they fight, of all places, in church and cannot agree on simple matters that require nothing more than common sense as the Mau Forest eviction has demonstrated.
Tangatanga and Kieleweke have all the hallmarks of morphing into violent political parties or gangs that would be used to force certain political views on the unwilling in each group's quest for supremacy; their main objective is to ultimately run away with the 2022 prize.
History is replete with innocuous groups, like the National Socialist German Workers party that transformed into the German Nazi party only to become an intolerant, totalitarian movement under Adolf Hitler. These gangs may serve a purpose today, but it is doubtful that whoever becomes president in 2022 would be comfortable with them; aware that one of them would be working to bring him or her down.
As writer DaShane Stokes once warned: "Those who incite violence have no business lecturing others about unity. When we allow violence against some, we enable violence against all".
Sadly, it is overt and covert exhortation to violence and hate that some of our duplicitous politicians treat us to, and thrive on daily. The Bible warns us not to covet, yet the grandstanding, hate and violence in our society are a consequence of covetousness.

Mr Chagema is a correspondent for The Standard. [email protected]