Use 'like' as an adjective, noun or preposition only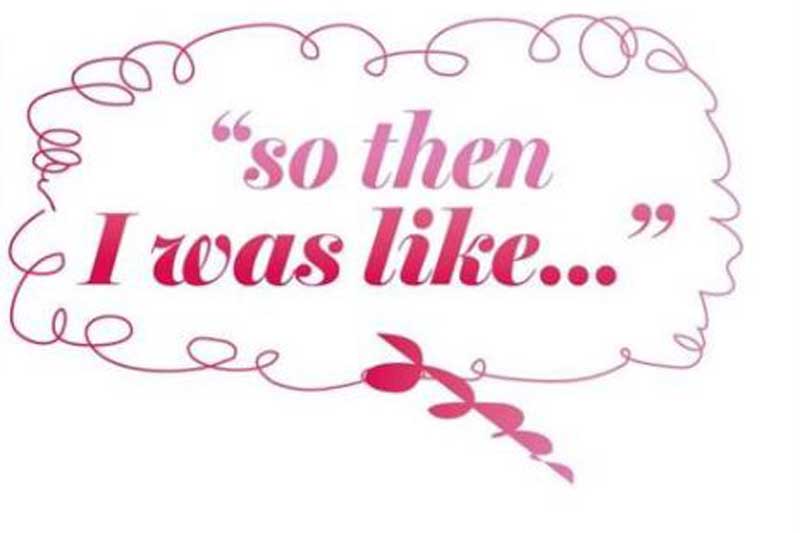 Human or vehicular, jams are annoying. However, whenever I find myself caught in Nairobi's mass of humanity; hurrying to get somewhere but not quite making the desired progress, the opportunity to hear and note some interesting things presents itself.
In the short distance between my work place and where I take my transport back home, I was amused to hear the expression; 'I was like...' several times from different groups of people. Those using the expression were fairly young women; college students, perhaps. The last group was discussing a friend's hairstyle, and one of them remarked: "I was like, why did she choose the weave?" In this context, whether the word 'like' is a preposition, adjective or a conjunction is indeterminate.

Among other issues, let us take a look at the word 'like'. Ideally, 'like' is used as a preposition, noun or as an adjective. For example, 'He runs like a gazelle', 'you can't help but like his good manners', 'John and Joseph are like minded individuals'. The word 'like' should not be used as a subordinating conjunction (word that joins dependent and subordinate clauses).
As previously discussed, a preposition is a word governing a noun or pronoun and which expresses a relationship. For example, 'The man on John's left'. Here, the preposition is 'on'. Other commonly used prepositions include 'about', 'during', 'until' 'as', 'in', 'since', 'by', 'to' and 'like'.

In day to day conversations, some people put the word 'like' in the place of coordinating conjunction 'as'. One of the common mistakes, and which largely goes unnoticed is to utter the words; "Like I was saying before I was interrupted". That is ungrammatical. In the place of the word 'like', it is advisable to use 'as': "As I was saying before I was interrupted".
Many discussants
Two occurrences caught my attention last week. One of those notorious leaders who seek political mileage by latching onto anything that allows them to vent their frustrations made a preposterous claim regarding the war on corruption.
Though he accused some unnamed individuals of "politicising war on graft", the reality is that he was the one doing the politicising. His sentiments generated national discourse in which many discussants told him off. In one of the televised debates, a panellist confidently said; "That is a fact that has been verified to be untrue". That could easily have passed as an oxymoron, except that oxymorons actually add up.
The dictionary definition of oxymoron is 'a figure of speech in which apparently contradictory terms appear in conjunction'. Examples of oxymorons include; 'clearly confused', 'growing smaller', 'open secret' and 'bitter-sweet'.

When does a fact become untrue? For data, claim or statement to become a fact, it must have been verified. The contradiction in the aforesaid statement cannot therefore be missed. The primary meaning of fact is 'something that is known to be true'. Of course, there are other meanings attached to the word, which include reference to specific situations. An example in this case is, "despite the fact that he was under anesthesia, he remained conscious", "despite the fact that Mr Miguna Miguna is a Kenyan by birth, the Government regards him an alien because of his dual citizenship".
Media interviews
On the same show, another panellist said "I point my hand to him". Those following the discussion at the time could easily follow his argument. However, the ungrammatical statement was a corruption of the idiomatic expression; 'point the finger at' or 'point an accusing finger at' (to blame). This is a common problem considering that some individuals attempt to put variants to idiomatic expressions, but miss the point altogether.

The other interesting thing that happened last week was a ceremony in which one man wedded two women at the same time. Apart from the audacity of the act, some television stations prominently displayed the wordings ' Maasai man marries two women'. The question arises; did the Maasai man actually marry two women at the same time? Follow-up media interviews with the brides negate this notion. The offending word is 'marry'. The Maasai man was already married by the time he decided to conduct the wedding.

To marry is to officially get into a long-term relationship with a partner of the opposite sex following courtship. To wed is to conduct a public ceremony to affirm a marriage. In most cases, marrying and wedding happen simultaneously. In the case above, was it fake news or simply a lackadaisical approach to detail? Given the vital role of the media to inform and educate, such lapses have a negative effect on learners.
Mr Chagema is a correspondent at The [email protected]