Positive, comparative and the superlative degrees of adjectives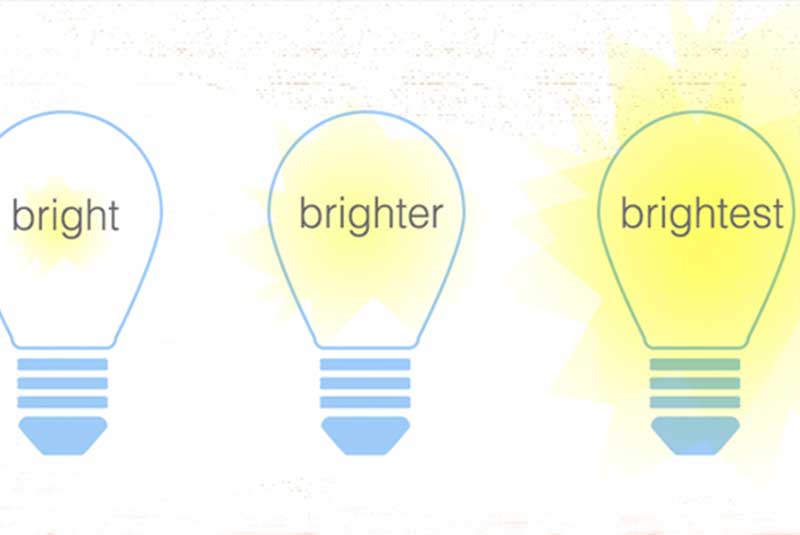 Where language is concerned, it is quite common to come across arguments like, "If I am communicating, why should I pay much attention to grammar?" "Language evolves" or "Hey man, we are not in class here, don't patronise me!" In an office setting, or any other setting that is post-education, one could let such defences pass unremarked.
From a discourse I glimpsed recently on social media, one of the participants was riled after grammatical errors and lack of substance in his contribution to the debate were pointed out by an individual he was trying to lambast for expressing an opinion he was averse to.
Because the Ruto versus Baba debates can be so emotive, the one accused of bad grammar did not take it kindly and wondered what the fuss was all about if what he had just posted was understood. Of course, he had backers, one of whom said, "nobody is in a classroom here".
Such attitude, I believe, is unhealthy. May be that is why there are so many educated people out there who, after school life, cannot prove it. There is no doubt that the English language has evolved over the years, but that does not make allowance for deliberate grammatical errors. Part of the evolution is influenced by the local dialects or lingua franca of the country/region in question such that while speaking of a 'panga' would be easily understood in East Africa, it will not in Siberia.
Interesting story
Our school education system is rigid and conforms to standards that have endured over decades without change. The change of curriculum does not seek to change the way the English language is taught; tenses, verbs, adjectives, interjections, articles, punctuation marks, sentence construction and so forth, largely remain the same.
No examiner will award a candidate marks on the premise that language evolves, neither will an unintelligible presentation of a composition attract good marks just because an examiner can make some sense of it. Imagine a situation in which someone who cannot be bothered with observing rules of grammar is asked by a learner to help with, say, the comparative, positive and superlative degrees of adjectives. This may sound a little bit daunting, but it should not.
Adjectives, as earlier discussed, modify (provide additional information about) nouns and pronouns. Though more often than not the adjective comes before the noun it modifies, there are cases in which the adjective comes after the noun. For example: "That expansive land yonder belongs to the local Member of Parliament", " Your spin on succession politics makes an interesting story", "Have you noticed Mary is so beautiful?", "The Merc is not too expensive, you can afford to buy it".
There are many types of adjectives; possessive (my, his, our), interrogative (which, what, why), Compound (run-down, second-hand), Quantitative (one, three), Indefinite (some, few, each), Demonstrative (that, this, these), Articles (a, the, an), Proper (Japanese car) and Descriptive (good, fast). Descriptive adjectives are categorised into three degrees of comparison; positive, comparative and superlative.
Comparative adjective
What then is the difference between the superlative, comparative and positive degrees, particularly of the descriptive adjectives? Whenever one makes a comparison between three or more things, the adjectival degree is 'superlative'. For example "Mitchell is the brightest of my five children". Comparative adjectives are used to compare two things of the same quality, for example, "Typhoid is more dreadful than malaria". Positive adjectives describe people. For example "Gerry is an amiable fellow".
The addition of letters 'er'- 'est', 'r' -'st' to an adjective will denote it either as a comparative or superlative adjective. The following examples will illustrate this. The first is the positive adjective, the second is the comparative adjective while the third is the superlative adjective: Cool–cooler–coolest, Sweet–Sweeter–Sweetest, Brave-Braver-Bravest and Tall-Taller-Tallest.
Where the adjective ends with letter 'y', this can be removed to be replaced by letters 'ier' and 'iest' to make the comparative and superlative forms. Examples are Easy-Easier–Easiest, Happy–Happier–Happiest. For words that have consonants at the end, doubling the final consonant and adding 'er', 'est' makes the comparative and superlative degrees.
For example, Big–Bigger Biggest, Hot–Hotter–Hottest. Still, the addition of the words 'more' and 'most' make the comparative and superlative degrees with some adjectives. Thus, we say Active-More active-Most active. Popular-More popular-Most popular. Difficult–More difficult-Most difficult. Irregular comparisons are: Much-More-Most, Good–Better-Best or Bad-Worse-Worst.
Mr Chagema is a correspondent at The Standard