Tundu Lissu to fly Chadema's presidential ticket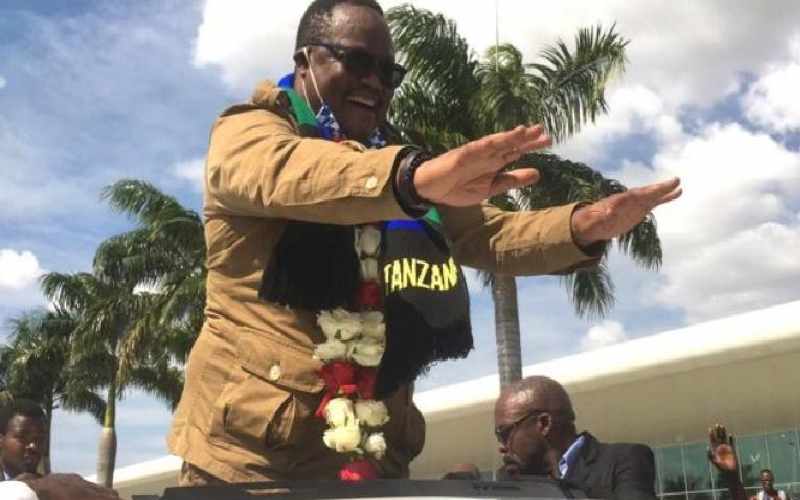 Back-from-exile Tanzanian firebrand opposition politician Tundu Lissu (pictured) has officially been nominated as the Chadema presidential candidate for the October polls with an overwhelming majority.
Lissu, who was battling it out with Lazaro Nyalandu and Dr Maryrose Majinge, has garnered 405 votes out of the 442 votes cast. Lazaro Nyalandu comes second with 36 votes while Dr Majinge has managed to garner only one vote.
Lissu, 52, was nominated as Tanzania's second-biggest party's presidential flagbearer during its governing council's meeting held in Dar es Salaam Monday evening.
Lissu is expected to be endorsed officially as the party presidential candidate Tuesday during Chadema's National Convention.
The party for Democracy and Progress, Chadema has been the main opposition party in the Swahili-speaking nation.
The former Singida East MP will now battle it out with the Incumbent John Pombe Magufuli who will be seeking to be re-elected for a second term using Chama cha Mapinduzi ticket. Magufuli, commonly known as the 'bulldozer' in Tanzania came to power in 2015, taking over from Jakaya Kikwete.
Chadema has never had the opportunity of ruling the East African nation, and Lissu now will square it out with Magufuli, who has before categorically stated his disinterest in staying in power.
Tanzania operates in a democracy that has seen presidents come and go.
Unlike in 2015 where Chadema joined hands with other parties opting for a coalition Umoja wa Katiba ya Wananchi (UKAWA) with Edward Lowassa as the frontrunner, regional political pundits argue that 2020 polls might be a walkover for President Magufuli if opposition parties won't forge a strong alliance and front a single flagbearer.
Lissu who has built his reputation as a prominent lawyer, fierce opposition figure and outspoken government critic spoke to Standard Digital on 13 July, argued that Magufuli's dream to see a dead opposition in Tanzania is an impossible one.
He further added that ''Despite the violence, threats and jail terms, Chadema remains stronger than ever".
Opposition leaders have recently been attacked and arrested. Freeman Mbowe, a high-profile critic of President Magufuli and Chadema chair was ambushed by unknown assailants as he returned home from the capital Dodoma in June, just months before the elections.
The outspoken former Tanganyika law society President recently returned to Tanzania & stepped on the nation's soil for the first time since he survived
an assassination attempt
at his Dodoma home in 2017.
Chadema governing council has also nominated Said Issa Mohammed as it's Zanzibar presidential flagbearer.
Speaking after the win, Lissu thanked the governing council for nominating him noting that his win was not an individual one, but that if the party.
''This is not my win, but that of the party, we have a huge task ahead of us, let us focus," said Lissu.
He further added that Chadema will create a political tsunami ahead of the October polls that will see the opposition party unseat the longest-ruling party CCM.