Burundi: Who is Evariste Ndayishimiye?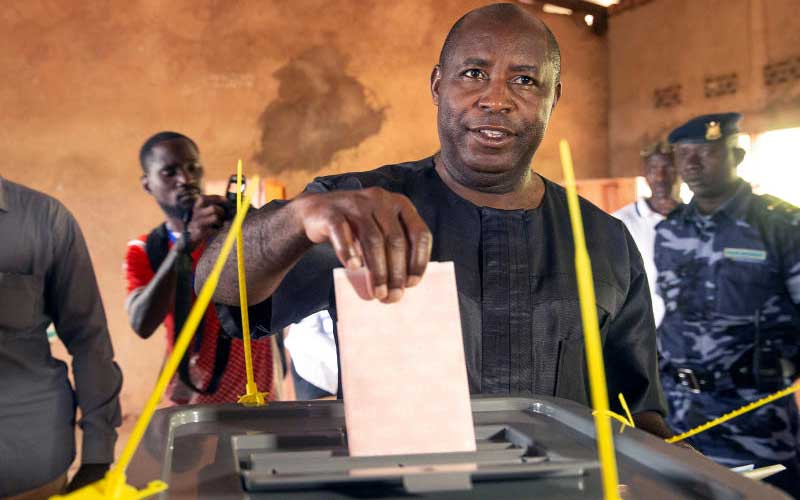 Evariste Ndayishimiye was yesterday declared Burundi's next president to take over from his ally and strongman Pierre Nkurunziza, after winning last week's bitterly contested poll with 68.72 per cent of the vote.
Ndayishimiye, according to the election commission, floored his main rival and opposition leader Agathon Rwasa of the National Freedom Council (CNL) by 44.53 per cent of the vote. Rwasa has alleged massive rigging in the election which saw 87.7 per cent voter turnout under the clouds of the coronavirus pandemic.
Ascension to power
Ndayishimiye, 52, now takes the helm of Burundi leadership as the country seeks to shake off the undoing of years-long ethnic-based civil war and economic ruin.
He joined the Hutu militia after he survived the ethnic cleansing of students at the University of Burundi in 1995, two years after the intractable conflict between the Tutsi minority and the Hutu majority began.
His militia belonged to the rebel group CNDD–FDD which morphed into the ruling party. Rising through the group's ranks, including as the spokesman for the rebel group's high command; he was appointed the main negotiator in the truce talks that ended the conflict in 2006, after claiming over 300,000 lives.
Until his election to the presidency, the retired army general has been the secretary-general of CNDD-FDD party since 2016.
He also doubled as the Military Affairs Department in Pierre Nkurunziza's government having also served as the minister of interior and public security from 2006 to 2007.
Compromise candidate
Popularly known by his nickname "Neva", Ndayishimiye was hand-picked to fly the party's presidential flag after Nkurunziza's bid for a third term in 2015 sparked protests by opposition supporters who termed it unconstitutional.
According to an Al Jazeera report quoting Burundi Human Rights Initiative, Nkurunziza had wanted the president of the national assembly Pascal Nyabenda to succeed him.
However, Ndayishimiye was settled on to "appease both Nkurunziza and powerful generals, who some believe actually control the government."
Already, political commentators are doubtful if Ndayishimiye, who assumes office after Nkurunziza's term comes to an end in August, will rule without the interference of his predecessor.
This is expected to be the first democratic transfer of power in 58 years of independence of Burundi.
Ndayishimiye will rule in the shadow of Nkurunziza who in February 2020 was appointed "supreme guide for patriotism" and will remain chairman of the party's highly influential council of elders.
According to the law, Ndayishimiye will have to consult Nkurunziza, who has ruled the country for 15 years, on matters of national security and national unity.
The final election results are set to declared by the Constitutional Court on June 4. When sworn in, Ndayishimiye will rule for a seven-year term.