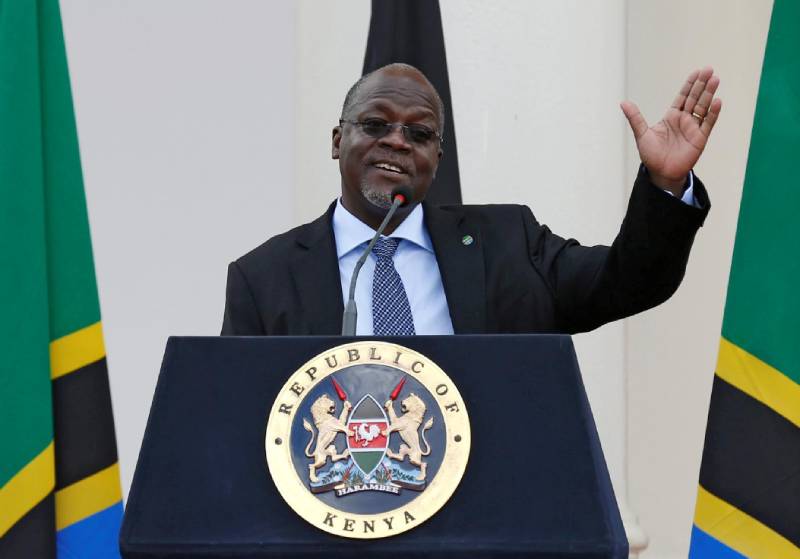 Tanzania's President John Pombe Magufuli (pictured) on Monday announced plans to re-open learning institutions if the 'decline in new coronavirus infections continues'.
Magufuli, who has on several occasion asked Tanzanians to pray in the wake of the pandemic, said sporting activities and international flights could also resume soon.
"Let us continue praying. And all the precautions that we have been taking, let us continue adhering to them. If the trend continues into the new week, I plan to reopen schools so that our leaners can continue learning," President Magufuli said.
"I have already instructed the ministers of natural resources and transport to allow those airplanes to come into Tanzania. And they will not impose quarantines," he added.
Read More
The East African country closed schools, banned all international flights and large gatherings when the pandemic struck but regular economic activities and religious services have continued to take place.
Even as its neighbours like Kenya closed its borders with country due to the country's laxity in announcing Covid-19 cases, Magufuli said Tanzania's borders will remain open.
He refused to impose a total lockdown and restrict movement of people for the fear that it would hurt Tanzania's economy.
Coronavirus cases
Magufuli has been accused of consistently downplaying the number of coronavirus infections in the East African country.
On May 3, he questioned the accuracy of the tests after he said the fruits and inanimate objects that he had had secretly sent to the country's main laboratory had come back positive for Covid-19.
The president called for an investigation in what he suspected is a "dirty game" at the laboratory. "The equipment or people may be compromised and sometimes it can be sabotaged," Magufuli said.
This was followed by the suspension of the head of its national health laboratory in charge of coronavirus testing.
No current data on Covid-19 has been released ever since with majority of Tanzanians sticking to their normal routine.