Ugandans want Cabinet size cut as Museveni retains old faces in reshuffle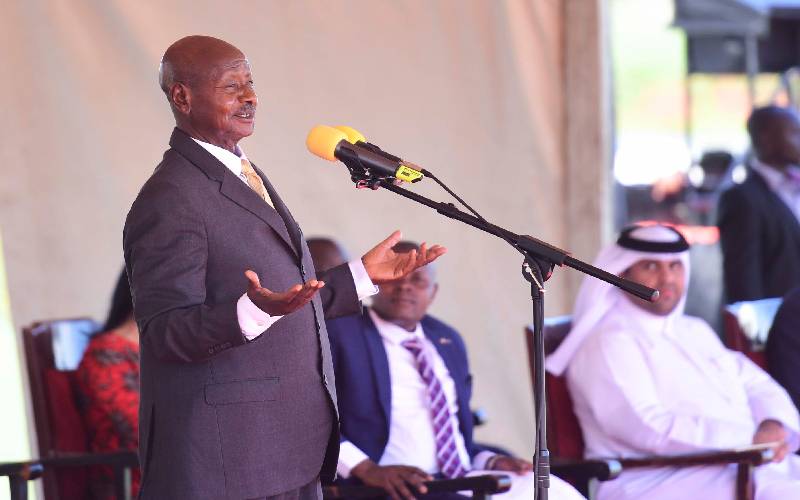 Ugandans took to social media to express their reservations with President Yoweri Museveni's latest Cabinet reshuffle.
Topping the infuriating list of issues was the size of the Cabinet which stands at 80 ministers, deemed one of the highest in the world.
That the Head of State maintained the old faces including his 71-year-old wife Janet Museveni in the Cabinet also did not go down well with a section of Ugandans.
They took to social media to call on their President to trim the Cabinet.
Nicholas Ndebesa took to Twitter to tell the President to reduce the number to at least 40, adding that it was burdening Ugandans.
"Mr President, please cut the number of ministers to 40, it is a burden," he tweeted.
Mugisha CB, another Twitter user took issue with the age of some of Museveni's ministers.
"In an era where countries such as Finland are being ruled by 34-year-old Prime Minister Sanna Mirella Marin, President Museveni's Cabinet has an average age of 70," he said.
Statistics rank Uganda as one of the most impoverished and least-developed countries due to economic mismanagement and political instability hence the bloated Cabinet could be a burden to the struggling taxpayers.
The United Nations Development Programme, Human Development Report 2019 puts Uganda's population living below income poverty line at 21 per cent.
Locally, Uganda Bureau of Statistic (UBOS) statistics indicate that nearly a quarter of Uganda's population lives below the poverty line.
UBOS in a 2017 survey dubbed Uganda National Household Survey shows that people living in poverty now stands at 10 million up from 6.6 million. Meaning poverty levels rose to 27 per cent up from 19.7 per cent. This implies that the strength of the economy is shrinking and any extra pile-up of wage bill would hurt it more.
Many people live in inadequate and overcrowded dwellings in slums, mostly without clean water, electricity and proper sanitation.
Rural people, too, suffer from a serious lack of basic necessities.
With President Museveni's new cabinet bursting in the limelight for scrutiny, the begging question are: How sustainable is it? And, how will the dockets transform into service delivery to address problems of Ugandans?
According to Section 111 of the 1995 Constitution of Uganda, as amended in 2005, "There shall be a Cabinet which shall consist of the President, the Vice President, the Prime Minister and such number of Ministers as may appear to the President to be reasonably necessary for the efficient running of the State."[1]
Duplications
The Cabinet is also laden with discrepancies such as the duplications with Karamoja region having two Cabinet portfolios.
A case in point is where there is the Ministry for Karamoja Affairs responsible for the coordination of all government programmes in the five districts of the Karamoja sub-region renderng the Ministry of State for Karamoja redundant.
Also split into many ministries is the education docket.
Under the Ministry of Education and Sports which is headed by Janet Museveni, there also Ministry of State for Higher Education, Ministry of State of Primary Education and Ministry of State of Sports.
Other dockets include Minister of Presidency, Minister of State for Bunyoro Affairs, Minister of State for Luwero Triangle-Rwenzori, Minister of State for Northern Uganda, Minister of State for Teso Affairs among others.
Compared to other countries in Africa, Uganda could be one of the countries in Africa with the largest Cabinet.
Uganda has 31 Cabinet ministers and 49 Ministers of State in the Cabinet of Uganda (2016 to 2021), a number that surpasses even most populous nations such as Nigeria and Ethiopia
In Nigeria, the most –populous nation in Africa, there are 36 Cabinet ministers, each coming from the 36 states of Nigeria while Ethiopia, Africa's second-most-populous nation has 20 Cabinet ministers with half of them being women.
In Tanzania, President John Magufuli reduced the Cabinet ministers to 19 from 30 in the previous cabinet after taking office in 2015
In Kenya, the 2010 Constitution of Kenya allows a maximum of 22 ministries and currently there are 21 cabinet secretaries.
Rwanda too has tried to reduce the number of its Cabinet minister with President Paul Kagame cutting the number from 31 to 26 in October 2018.