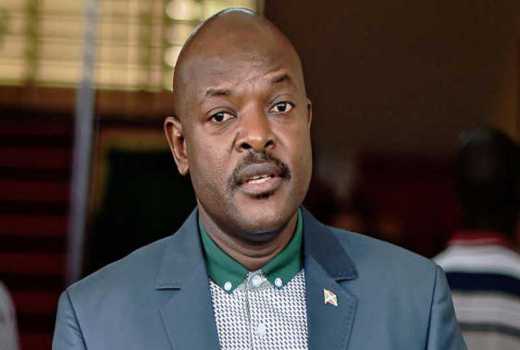 Burundi's ruling party has bestowed the title of 'eternal supreme guide' on President Pierre Nkurunziza, a party official has confirmed Sunday, as critics claim he wants to lock in power for life.
"He is our elder, our father, our adviser," CNDD-FDD secretary general Evariste Ndayishimiye said in a video sent to AFP whose authenticity was confirmed by an official.
A party statement issued after a meeting on Saturday of the party's top leadership in Mr Nkurunziza's native Buye in the north of the former Belgian colony did not spell out the implications of the title.
The 54-year-old former rebel leader has ruled the densely populated central African country since 2005 after a devastating civil war.
A constitutional referendum in May could allow him to run in elections in 2020, paving the way for him to remain in power until 2034.
Read More
Critics mocked the party, with one decrying the "cult of personality around his majesty the King Nkurunziza I".
But another party official, who asked not to be named, insisted to AFP the move did not reflect "an excess such as those of (former North Korean dictator) Kim Il Sung, as our detractors suggest".
Burundi has faced a serious political crisis since Nkurunziza sought a fiercely contested third term in office in April 2015.
Post-election violence claimed at least 1,200 lives and displaced more than 400,000 people between April 2015 and May 2017, according to estimates by the International Criminal Court, which has opened an investigation.
Nkurunziza has led several purges in the ranks of the former rebellion and surrounded himself with a select group of generals.
Opposition parties warn the constitutional changes could deal a death blow to the Arusha peace accords that helped to end the 1993-2006 civil war, in which more than 300,000 people died.
The Arusha accords stipulate that no president can govern the country for more than 10 years. The constitution sets a limit of two five-year mandates. Last month, it emerged that Burundians were being forced to sign up to vote in the May referendum, claims the government denied.
The constitutional amendment would extend the presidential term to seven years from five. It would limit the president to two consecutive seven-year terms, but won't take into account previous terms, potentially extending Nkurunziza's rule to 2034.
The deputy chairman of the opposition FRODEBU party, Léonce Ngendakumana, told Reuters that citizens were being intimidated into signing up to vote in a week-long registration exercise which ended last month.
"Checkpoints have been set up, likely by youths of the ruling party, to check receipts (of registration). Students who have not been registered are sent back to do so," Ngendakumana said last month. "This referendum is organised in total opacity and extreme intimidation. A referendum held in such conditions will result in a biased outcome."
Nkurunziza came to power in 2005 after a peace deal ended a decade of civil war between the Tutsi-dominated army and Hutu rebels, in which 300,000 people were killed.
A traveller who requested anonymity confirmed to Reuters he had been stopped at a roadblock near the Rwandan border and asked to confirm he had registered. Reuters spoke to people who also reported roadblocks in central Karusi. Five people talked of roadblocks in three different locations.
The registration drive also targeted 16-year-olds, since they would be able to vote in 2020.