Powerful Grace Mugabe rise to fame and controversies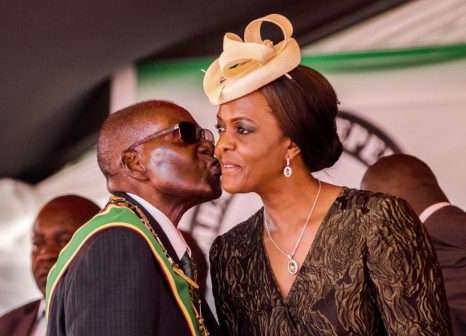 Besieged Zimbabwean First Lady Grace Mugabe was undoubtedly the power behind the world's oldest President, Robert Mugabe.
She has survived a number of scandals and, until Wednesday, looked poised to become the Southern Africa nation's next leader.
Grace, 52, rose to fame when she started an affair with Mugabe who is 41 years her senior, while working as a typist in Zimbabwe's State House.
She had the affair while still married to Stanley Goreraza, an air force pilot, with whom she had a son, Russell Goreraza, born in 1984. The two later split.
Public affair
Mugabe on the other hand was still married to Sally, his first wife who died from kidney failure in 1992. But he defended their affair, saying his wife knew about it and did not mind.
In a past interview, Grace said at first, she had no idea the President was interested in her.
"He came to me and started asking about my family. I looked at him as a father figure. I did not think he would at all look at me and say: 'I like that girl.' I least expected that." Grace said in a rare interview about their first encounter in the late 1980s.
She married Mugabe in 1996 in an extravagant ceremony attended by anti-apartheid icon, Nelson Mandela and a host of African leaders.
The South African-born Zimbabwe's first lady fiercely defended her ailing husband, declaring that he should run for another term from the coffin in next year's election if he died before the vote.
The couple has three children, Bona, Robert and Chatunga and have vast properties, businesses and farms dotted around the country, mainly in the rich western and northern provinces.
Like her husband, Grace has been a controversial figure both at home and abroad. She has been a subject to EU and US sanctions alongside the husband, including travel bans
Her lavish lifestyle earned her the nickname 'Gucci Grace' and 'DisGrace' by her critics, who accused her of lavish spending. In 2002, she is said to have spent 120,000 dollars (Sh12.5 million) in Paris when her country was facing famine.
She controversially earned a PhD in sociology from the University of Zimbabwe in two months, in 2014, although her thesis, unlike those of other students, was never filed and has never been made available.
Her doctorate dissertation was used on campaign material as she prepared to take over the leadership of the Zanu-PF women's wing.
Since becoming more active in politics, grace has been renowned for her sharp tongue while attacking political opponents and when defending her husband.
She has been accused of washing the ruling party's dirty linen in public by calling on people to resign or apologise and despite this, she has long had the support of younger politicians in the country's political hierarchy.
She has been instrumental in the ousting of several alternative potential successors to her husband's presidency after she was appointed to a high-profile role in the ruling Zanu-PF party as the head of its women's league.
She is said to be behind the exit of former Vice President Joice Mujuru in 2014. She led a public smear campaign against Mujuru, a former ally of Mugabe, depicting her as corrupt, an extortionist, incompetent, a gossiper, liar and ungrateful.
Mujuru was also accused of joining hands with the Opposition and 'white people'.
Smear campaign
This year, Grace launched a similar smear campaign against yet another Vice President, Dambudzo Mnangagwa, accusing him of planning a coup and calling for his expulsion for the party.
Mnangagwa was sacked early this month on charges of disloyalty, paving way for drum beats of Grace's presidency.
Grace relished the new wave of popularity, especially among the youth.
"They say I want to be president. Why not? Am I not a Zimbabwean?" she told a political rally in 2014.
Recently, she dominated headlines for more than her politics, when she was accused of assaulting a young South African model Gabriella Engels after she found the model with her two sons in a hotel room in Sandton, Johannesburg.
The incident sparked a diplomatic tiff between Zimbabwe and South Africa.