Adama Barrow: I inherited virtually empty economy
AFRICA
By AFP | July 27th 2017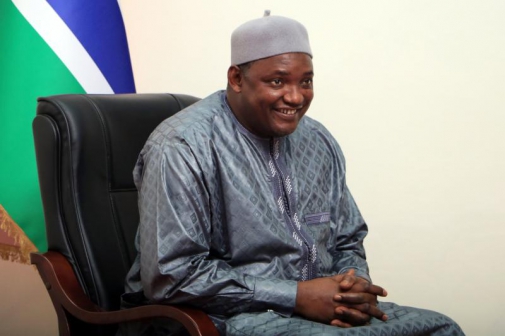 Six months ago, businessman and political novice Adama Barrow took power in Africa's smallest mainland country after delivering a stunning defeat against ex-leader Yahya Jammeh, who had ruled brutally for 22 years.
When Mr Barrow finally took power in The Gambia in late January after a prolonged political crisis, the euphoria soon turned to grim recognition that Mr Jammeh had more or less cleaned out the nation's coffers before leaving for exile in Equatorial Guinea, he tells AFP in an interview.
"We inherited an economy that was virtually empty," Barrow recalls. "With one month import cover - and that is very, very serious - our domestic and foreign debt was at highest level." The European Union and the World Bank swooped in to help the new administration to the tune of $56 million (Sh5.8 billion) - just $6 million (Sh624.3 million) more than the government now accuses Jammeh of stealing by diverting funds intended for national telecoms to his own accounts.
Bright turquoise
Barrow says the nation can now cover its import costs - a key measure of economic health - for three months, that food prices are down, and that investors, spooked by Jammeh's tendency to announce herbal cures for Aids, among other things, are showing strong interest.
"There is a lot of goodwill from around the world. And they have expressed interest in doing business with The Gambia," he says, looking relaxed in a traditional West African 'boubou' tunic coloured a bright turquoise.
"Not just the Chinese and (former colonisers) the British, but Dubai and others like the French," Barrow says. "It is now up to The Gambia to make the best out of these."
He also notes an interest in opening up the nascent mining sector.
A former real estate agent and developer, Barrow, a physically imposing but softly-spoken father of four, is most at ease talking business, enthusiastically discussing the development of Banjul's long neglected port and an expired petroleum licence he wants to open up to new bidders.
But while Gambians desperately want job creation and infrastructure, the wounds of the past are fresh.
The families of those disappeared by Jammeh's security services, beaten by his police, or who had their businesses seized want trials, and quickly.
"(Jammeh) was the head of everything: atrocities, wealth, everything. We will investigate it all," Barrow insists.
But how to extract Jammeh from Equatorial Guinea remains a puzzle.